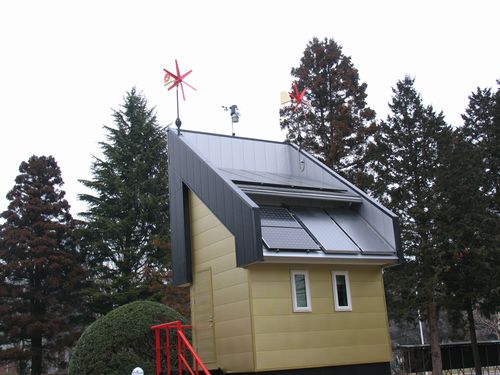 Copyright Nihon University

The College of Engineering at Nihon University in Japan announced on January 30, 2009, that it had completed construction of a research house dubbed the LOHAS House on its campus in Koriyama, Fukushima Prefecture. It is actually a large-scale research apparatus to be used to conduct experiments on technology that allows coexistence with nature using renewable energy. The house is super-insulated and equipped with a compact windmill, solar panels, and a geothermal heat pump, and it requires neither outer electrical source nor petroleum. The room temperature is monitored throughout the year and its comfort levels are analyzed.
Measuring three meters long, four meters wide, and six meters tall, the house has a living area of about ten square meters plus an under-floor machine room. The windmill blades were designed to meet the wind conditions particular to the region, and two rows of solar panels were installed, one positioned at the optimal angle for summer sunlight, and the other for winter sunlight.
In addition to these electricity generators, ground heat collected by the heat pump is used via a thermal storage system to control the room temperature. By taking advantage of leading-edge building techniques and materials, such as highly rated insulation and an air-tight structure, a revolutionary house needing no outer electrical source was built.
A storage tank was also installed for rainwater to be used for showering, after first being filtered. If the rainwater can be used for drinking water, then a truly self-sufficient lifestyle in the house will be realized.

Using every possible technology available, the college will continue the study of the ideal house design for self-sufficient living and co-existence with nature, expecting such research to give youth a dream to strive for, over the next 100 years to turn the findings into a large industry of integrated technology.
Posted: 2009/06/11 06:00:15 AM