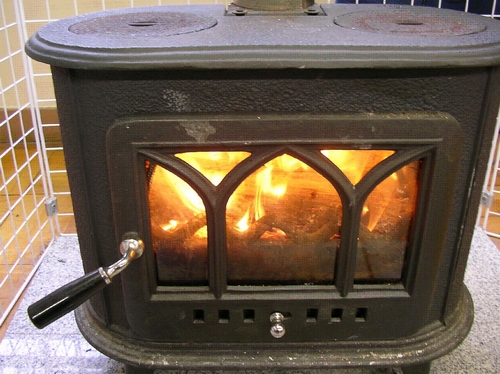 Copyright Japan Center for Climate Change Action

Kumogahata Junior High School in Kyoto Prefecture, Japan, won the grand prize at the "Stop Climate Change -One village, One Action at a Time" convention, which was held on February 14 and 15, 2009. Their project utilized local energy sources and was recognized for the 80 percent reduction in carbon dioxide emissions from school classrooms as a result of using wood stoves and electric fans powered by solar and wind energy.
This national convention is organized by the Ministry of the Environment in order to disseminate innovative local projects dealing with global warming prevention. This was its second year. Of 1,130 applicants, 47 projects were selected at the prefecture level to proceed to the national convention, where they underwent further review and presentations for each prize.
The Snow-Country Housing Research Group (Niigata Prefecture) won the Gold Prize for a project utilizing snow stored in winter to cool air and to refrigerate food during summer. The Silver Prize went to the Kochi Biomass Farm's (Kochi Prefecture) idea of promoting local agriculture and forestry through the use of wood pellets for heating greenhouses. And the Bronze Prize was given to the environmental group of Miyako General High School(Okinawa Prefecture) for the idea of growing buckwheat on resting sugarcane fields in order to help sugarcane farmers sustain production.
'CO2 Diet' Timber Dam Made of Japanese Cedars Recognized (Related JFS article)
http://www.japanfs.org/en/pages/028839.html
Hot Spring Resort Uses Geothermal Heat to Reduce CO2 Emissions (Related JFS article)
http://www.japanfs.org/en/pages/027055.html
Japan Center for Climate Change Actions (JCCCA) official website
http://www.jccca.org/content/view/1058/620/
Posted: 2009/06/09 06:00:15 AM