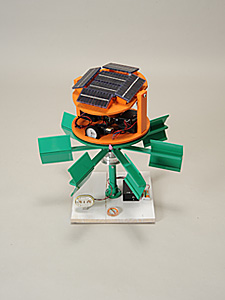 Copyright Japan Institute of Invention and Innovation

At the fifth annual International Exhibition for Young Inventors, held in Taiwan in September 2008, Japanese teenager Emi Mase won top gold awards in two of eight categories for her "hybrid power generator harnessing sunlight and wind." The model, developed after several years of trial and error by the 15-year-old junior high school student, from the city of Kariya in Aichi Prefecture, was highly appraised for its eco-friendliness and originality.
The little generator uses hybrid technology, a combination of six solar panels on the top and wind power blades attached underneath, with the aim of utilizing solar and wind power as effectively as possible. A pair of solar batteries is installed under the solar panels. The power difference between the batteries makes the motor rotate toward the direction of the more powerful battery. Thus, the direction and inclination of the shaft adjusts until the batteries start generating equal outputs. At night or during daytime in bad weather, the blades generate electricity by wind. The model, emulating the behavior of a sunflower, turns to face the sun as it moves across the sky. When aimed toward the south, a scale indicates the time of day.
The model is also unique because it is made utilizing readily available waste materials. For instance, the wind power blades are made of plastic nametags glued together, and the motor is a hub dynamo from a broken bicycle. The young female inventor has enjoyed making things out of waste materials since childhood, and her winning invention has also aroused high expectations of her future works.
International Exhibition for Young Inventors
http://www.gainternationalfolkfair.org/youngHistory.pdf
http://www.gainternationalfolkfair.org/youngInventors.pdf
Posted: 2009/04/16 06:00:15 AM