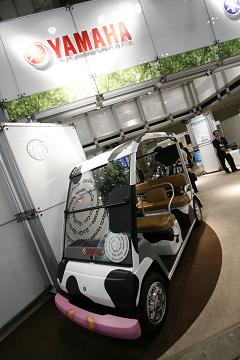 Copyright Yamaha Motor Co.

Japan's Yamaha Motor Co. has developed a golf cart that runs on methane made from cow dung. In preparation for commercial production, in October 2008, the company began testing the cart on a golf course in Katori, Chiba Prefecture. Osaka Gas Co. provided the methane at a low cost for the vehicle tests, as part of its efforts to promote the use of cow-dung biomass as a low-cost fuel.
To make methane usable as a vehicle fuel, both a methane refining system and a high-pressure gas-filling system are required, among other things, which come at high cost. As a fix, Osaka Gas developed activated carbon capable of absorbing methane at low pressure. When methane is put into the gas tank filled with this type of carbon -- under a pressure of around one megapascal (equivalent to the pressure at a depth of 100 meters under water) -- the tank can hold around 30 times the tank's volume of methane, thereby eliminating the need for high-pressure filling.
In Katori, there is a place called "Biomass Town," where citizens promote the use of cow dung for local biofuel, and it was here that the city looked for users of dung-derived methane. After consulting with the city, Yamaha Motor found a golf course in the vicinity willing to participate and began studying the possibility of using methane in golf carts, which travel relatively regular distances and are not driven at high speeds. This testing has led to the development of a golf cart powered by the locally produced biomass.
Posted: 2009/04/11 06:00:15 AM