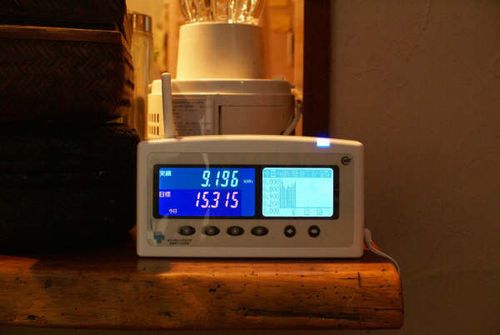 Copyright Anjo city

A unique project designed to research home electricity use was launched in the Japanese city of Anjo in Aichi Prefecture in the fall of 2008. The city has been promoting its "Diet 30" project, in which it is aiming for a 30 percent reduction of greenhouse gas emissions. As part of the project, it distributed energy monitoring devices to about 300 average-use households to track the project's effectiveness through changes in people's electricity usage. The research is to be conducted for one year, from December 2008 to November 2009.
Three devices were given out to each of the households that had applied to participate before the deadline in October 2008. Each of the devices, which includes a monitor and electricity sensor, measure household electricity consumption and compare the data from the previous year using numbers and graphs. One of the three devices monitors the home's total energy consumption, one is for air-conditioners, and other is for televisions or refrigerators.
The city aims to raise citizens' awareness about more eco-friendly lifestyles by giving them a way to visualize the effects of saving energy, and promote such activities by awarding eco-points based on their reduction efforts from the previous year. Eventually, the city plans to make comparisons among the participants of their ecological efforts and evaluate them using the collected data.
This project is expected to encourage citizens to act positively in energy saving. The city also intends to utilize the data of household electricity usage for further study of its environmental policies.
- Green the City with 'Greenery Curtains' (Related JFS article)
http://www.japanfs.org/en/pages/028539.html
- Japanese City of Anjo Expanding Eco-Cycling Project (Related JFS article)
http://www.japanfs.org/en/pages/028612.html
Posted: 2009/03/17 06:00:15 AM