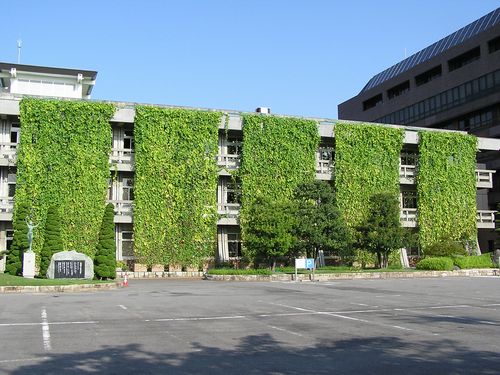 Copyright Anjo City

Anjo City of Aichi Prefecture has been working to promote greenery on the city government's building since FY 2007. As the average temperature on the green-covered surface measured in FY 2007 was 1.5 degrees Celsius lower than that of other bare surfaces, in addition to the original wall greening, the city also greened its building's balconies in FY 2008.
As for the wall greening, the building's eastern part was covered with five nets, each measuring 16 meters long and six meters wide, from the first floor to the rooftop like the year before. For each net, five planters containing morning glories, bitter gourds and loofah were used, and the automatic irrigation devices supplied water twice a day.

For the balcony greening, each floor's balconies facing east, west and south were covered with 1.8 meter-wide nets, from the railings to the floor above. A total of 17 sets of six planters containing morning glories, balloon vives, and sword beans were used, and watered by the employees.

During a "Green Campaign Period" from May to October, the city opened an observation diary on its website and provided updates on the plant's growing process. The employees commented about the activity as follows: "During my work, I enjoyed observing the plant's growth, close at hand.", "The greeneries heal our mind."
The city has also been launching a citywide greening activity with bine plants by distributing seeds and the nets to its citizens in the beginning of summer; promoting greeneries at all of the 23 nurseries in the city; soliciting the photographs from the citizens and holding a "Greenery Curtain Competition."

Posted: 2008/12/02 06:12:15 AM