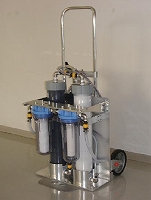 Copyright the National Institute of Advanced Industrial Science and Technology (AIST)
Japan's National Institute of Advanced Industrial Science and Technology (AIST) announced on April 15, 2008, that it has jointly developed a portable water purifier that requires no electricity to operate. Water purifiers that can produce safe drinking water are particularly important in emergencies such as disasters when people are often forced to use groundwater, which might be contaminated with nitrate ions, a hazardous substance that makes it dangerous to drink without treatment.
The joint project team -- which included people from AIST's Health Technology Research Center, Teijin Engineering Co., Ltd., and Kagawa University -- developed a special absorbent for nitrate ions and a formed material to support the particles of the absorbent, enabling relatively quick water purification and a reduction in the size of purifier.
A prototype model was tested using well water that included nitrate ions in amounts above the safe drinking water standard, which showed that the equipment, into which water is poured manually, was verified to produce water that meets the drinking water standard. With a column volume of one liter, the equipment can produce drinking water for about 60 people per hour.
It can be used to treat water from wells and a wide range of other sources. While it still needs improvement, Teijin Engineering and other organizations plan to commercialize the water purifier within one year.
http://www.aist.go.jp/aist_e/event/ev2008/ev20080421/pdf/aist11.pdf
Posted: 2008/08/10 07:56:40 AM