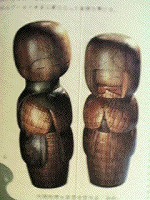 Kokeshi are Japanese wooden dolls that have a cylindrical body, a round head with a bobbed hairstyle, and a sweet smile. These dolls have recently been gaining popularity in the UK. Kokeshi manufacturers in Gunma Prefecture have been selling the dolls, a traditional handicraft of the prefecture, to overseas customers on the Internet since spring 2004, and exports have skyrocketed. Orders from the UK alone were for 7,000 dolls in January 2005, double the total exports in the same month last year.
Kokeshi dolls in Gunma are manufactured with traditional methods although their design is modern. They are made of solid dogwood or chestnut, with the wood grain making part of pattern. Popular for export are girl dolls with bobbed hair and ribbons, which are sold at department stores and Japanese souvenir shops in the UK.
Australia, Taiwan and Hong Kong were formerly major importers, but this is the first time Kokeshi dolls are selling on European markets. Manufacturers plan to expand their sales network to countries such as the Netherlands and Ireland. The Gunma Prefecture Kokeshi Cooperative said "their traditional character and cute expressions may be responsible for their popularity."
Back in 1960 the cooperative had 120 members, but this has presently dwindled to 25. The Kokeshi industry has been facing hard times, such as a lack of apprentices to the trade and diversification of the Japanese souvenir market. The industry hopes that the popularity of Kokeshi in the international market will lead Japanese people to take a fresh look at the charm of these dolls.
http://www.usaburo.com/index3.htm
Posted: 2005/05/27 10:25:17 PM
Japanese version