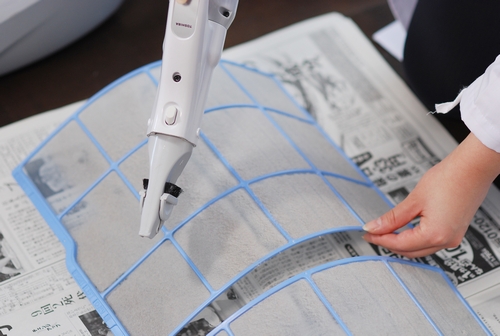 Copyright Daikin Industries Ltd.

Daikin Industries Ltd., a leading Japanese manufacturer of air-conditioning systems, announced on June 6, 2012, the results of testing conducted by its research group that verified that simple power-saving practices such as regular cleaning of an air-conditioner's filter make it possible to reduce power consumption in a living room by about 15 percent.
The research group was established in June 2011 with the aim of investigating consumers' problems and simple questions about air conditioning together with consumers. In 2012, a year since the power-saving campaign started, consumers say they want to save power more wisely and in a focused way. The group therefore decided to investigate how to reduce energy consumption for air-conditioned living rooms, a topic on which housewives wanted the most information.
According to a survey conducted in May 2012 at an apartment in Amagasaki City, Hyogo Prefecture, power consumption was reduced by 15 percent as a result of four energy-saving practices: cleaning filters, improving the air flow around the air conditioner's outdoor unit, closing curtains to block out sunlight, and raising the air-conditioner's temperature setting by 2 degrees Celsius in summer. Graphs depicting the power-saving effects showed that cleaning the filter increases wind velocity by 50 percent and closing the curtains of rooms exposed to the afternoon sun lowers room temperature by more than 10 degrees Celsius.
The company encourages consumers to implement these practices for two to three months during summer in their living room, where family members gather everyday. The results will be significant energy saving.
Japanese Air Conditioning Manufacturer Supports Businesses' Power-Saving Efforts (Related JFS article)
2011 Summer Energy-Saving Efforts in Japan: "We Can Make It!"--Achievements and Success Factors
Posted: 2012/09/21 06:00:00 AM