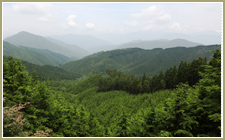 Copyright Suntory Holdings
Suntory Holdings Ltd., a major Japanese beverage manufacturer, announced on March 2, 2012, that it has concluded a forestry maintenance agreement with the local government of Higashi-Shirakawa in Kamo, Gifu Prefecture, and the government of Gifu Prefecture under the prefectural project to conserve forests in collaboration with companies. The aim is to promote the forest management activities around water resource cultivation areas.
This agreement adds about 167 hectares of the village managed forest to the nearby national forest (about 358 hectares), for which Suntory signed an agreement with Gifu District Forest Office in the Forest Agency of Japan in 2010, as the Natural Water Sanctuary Gifu Higashi-Shirakawa Project. Suntory's forestry maintenance project will be run for a long period of time to demonstrate the high capacity for maintaining sustainable natural water resources.
In the Natural Water Sanctuary Project, Suntory has worked with local communities and academic experts on efforts to nurture forests with high capacity as a water resource cultivation area, to preserve forest biodiversity, and to provide visitors with places to enjoy nature.
Water Sustainability: Suntory Group's "Bringing Water to Life" Activities
"RESONATING WITH PEOPLE AND NATURE" (Suntory)
Posted: 2012/06/22 06:00:15 AM