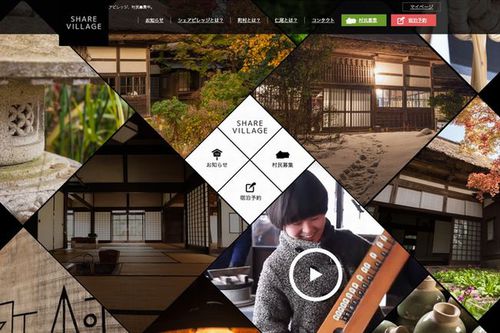 "Share Village" website
The "Share Village" project has been ongoing in Japan since 2015, with the aim of attracting people to support to the revival and restoration of traditional folk houses in a unique way -- by portraying the houses as a virtual village. Old folk houses, known as "kominka," are disappearing in Japan due to modernization and a changing society. Here is the basic project concept: "A village exists because of the villagers, not the opposite. An old folk house can be like a village if many people support it."
Kominka are uniquely-Japanese traditional homes well-suited to the environment and made of natural materials including wood, clay, straw, and bamboo.
Anyone can be a Share Village "villager" by paying 3,000 yen (about US$27) as an annual membership fee, referred to as nengu (something like "tribute" in a feudal society). Villagers can visit the village any time and stay there to enjoy. They also have fun even in urban areas away from the village, gathering for yoriai (another feudal word meaning villagers' meeting). At these informal gatherings, "villagers" gather to enjoy drinking and talking.
As of March, 2017, two Share Villages were in operation. One is a 135-year-old folk house with a thatched roof, located in Gojome Town, Akita Prefecture, northern Japan. Gojome is famous for its early morning market and 520 years of history, has a population of about 10,000 based on agriculture and forestry, and is the home of many traditional craftsmen and sake makers.
The other is an authentic tile-roofed mansion more than 100 years old, located in Nio-cho, Mitoyo County, Kagawa Prefecture, southern Japan. Nio-cho is a small town with a population of less than 6,000, with traditional industries in fishing, salt and vinegar production, and surrounded by "mikan" (mandarin orange) orchards.
The Share Village project aims to attract a million "villagers" to increase the number of old folk houses revived as virtual villages nationwide.