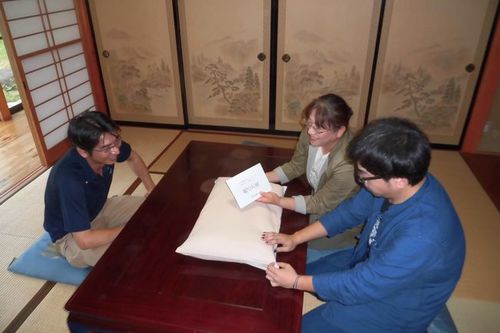 Copyright Iwaki OtentoSUN Enterprise Cooperative All Rights Reserved.
Tohoku Fukko Nikki (Tohoku Reconstruction Diary), a weekly feature in the Tokyo Shimbun newspaper, delivers news and stories on reconstruction efforts in the communities devastated by the 2011 earthquake and tsunami. The articles are written through the JKSK Yui-Yui Project, an initiative to support survivors of the 2011 disaster by the non-profit organization JKSK Empowering Women Empowering Society. This month, we present below an article published on August 9, 2016, about collaboration between people who are making reconstruction efforts in the same area.
"Sorry we took so long. It's finally been completed."
On July 6, 2016, Masayuki Takahashi, President of Iwaki Takahashi Co. (Iwaki City, Fukushima Prefecture), appeared at the front door of the Iwaki OtentoSUN Enterprise Cooperative, carefully holding a cardboard box with the name "Nemuri Sugi Makura" (which literally means sleep cedar pillow) written on it. In November 2015, I heard a story from him at an event site related to a leading model project for a "New Tohoku," led by the Reconstruction Agency of Japan, and eight months had passed since then.
Since the Great East Japan Earthquake, forestry in Iwaki City has fallen on hard times, and also been affected by the nuclear power plant accident in Fukushima Prefecture. In this situation, Takahashi moved to the city and jumped into the field of forestry. Then, he launched a business to produce and sell high-grade chopsticks using local cedar wood, and his efforts had a considerable impact. With this business he has received several awards, such as the Good Design Award and Fukushima Industrial Award, which gave the impression that everything was going smoothly for him.
However, Takahashi told me that, considering the city's future, this business alone was not enough, and that he was carrying on a new project to develop a pillow using cedar wood chips. So, I instinctively asked, "How about if we collaborate in some way as fellows who both work in Iwaki for its reconstruction?"
We had been advancing the Fukushima Organic Cotton Project to revitalize agriculture in Fukushima Prefecture, but we didn't have any collaborative products to share the idea with local enterprises. He accepted my offer and kindly decided to use our original pillowcase, which is made of fabric containing 10 percent organic cotton grown in Fukushima and some other parts of Japan, with the pillow. The texture of the fabric was carefully considered, and a waffle fabric with a soft feel was adopted for the pillowcase.
When holding the pillow, we can smell the soft scent of cedar. The inner bag of the pillow, for which he has worked hard to develop a highly cushioned fabric over six months, is elastic and eliminates the feel of the cedar chips inside. The pillowcase is in the color of cedar wood surface and covers the whole pillow. I felt confident that we had developed an excellent product made in Fukushima and felt joy about being a part of this project.
Emiko Yoshida
Representative
Iwaki Otento SUN Enterprise Cooperative