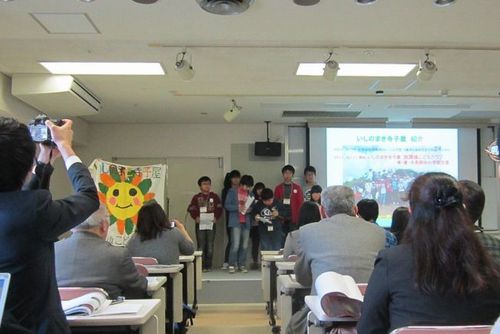 Copyright Ishinomaki Terakoya NPO Community Center All Rights Reserved.
Tohoku Fukko Nikki (Tohoku Reconstruction Diary), a weekly article in the Tokyo Shimbun, delivers news and stories on reconstruction efforts in the communities devastated by the Great East Japan Earthquake. The article is submitted by the JKSK Yui-Yui Project, an initiative to support victims of the 2011 disaster by the non-profit organization JKSK Empowering Women Empowering Society. This month, Japan for Sustainability introduces an article, published on May 17, 2016, about an idea for shelter operation in disaster-struck areas.
Natural disasters could happen at any time. A boy, who was in the elementary fifth grade at the time of the 2011 earthquake, said "Please make plans within the scope of assumption" at the public forum of the third United Nations World Conference on Disaster Risk Reduction (WCDRR) held in Sendai City, Miyagi Prefecture, in March 2015. When the earthquake hit on March 11, 2011, people who evacuated the coast line by remembering local tradition were able to escape the tsunami. Japan is known as a land of earthquakes, so we have valuable teachings in our history. We should review our methods for creating towns and communities, where convenience is prioritized.
At the time of the earthquake, I was living in Ishinomaki City, Miyagi Prefecture, and I barely escaped alive after the earthquake and tsunami. In Ishinomaki City alone, we had 259 evacuation shelters, which needed to house more than 50,000 people.
I spent about seven months at one shelter, four and a half years in temporary housing, and finally moved into a house in Osaki City located inland in April 2016.
During the first seven months at the shelter, a training room at Ishinomaki High School, we maintained an open space, focusing on children, without placing partitions of cardboard and curtains. We lived in a family-like community with 231 people, including 21 children up to high school age.
This open style was adopted based on advice from Unni Krishnan, a medical doctor and disaster relief specialist. He visited our shelter nine days after the disaster. He said that it was important in times of disaster to support people with both materials and mental health care, keeping human rights and dignity at its core.
We opened an Ishinomaki Terakoya, an open school for children, at our shelter during summer holidays to provide children with a space to spend time. Teachers from the Tokyo area came to this open school to support children with their studies. Thanks to the idea of not having partitions in the room, we enjoyed interacting with our neighbors, and children felt secure and remained active. Although parents and elders were considerably discouraged by the tough situation, the presence of children helped to inspire hope.
Michiko Ohta
Chief
Ishinomaki Terakoya NPO Community Center