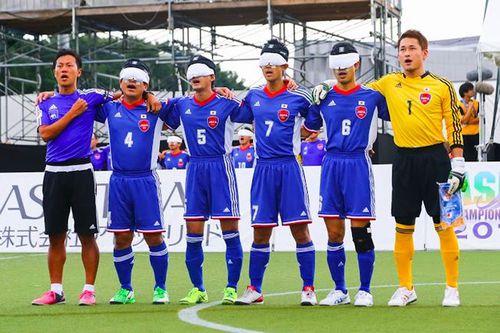 Copyright Japan Blind Soccer Association All Rights Reserved.
One of the major food product manufacturers in Japan, Ajinomoto Co., announced on April 21, 2016, that it has signed partnership and Japan national team sponsorship agreements with the Japan Blind Soccer Association. The association's vision is to build an inclusive society for the blind or visually impaired athletes through blind soccer.
Leveraging its expertise with food and amino acids developed since its establishment, the company has been supporting various sports activities. Since 2003, it has been working on the "Victory Project" to support Japanese national teams, by providing sports nutritional guidance and amino acid conditioning support. The aim of this project is to help top Japanese athletes win in global competitions. The company also offers its nutritional support products and the "Kachimeshi" (Winning Meals) sports nutrition meal program for building a winning physique.
The company will now further broaden its scope of activities to sports for the disabled, and help enhance the competitiveness of athletes with disabilities through its nutritional support activities. It signed an official partnership agreement with the Japan Sports Association for the Disabled in December 2015, and with the Japanese Para-Swimming Federation in April 2016.