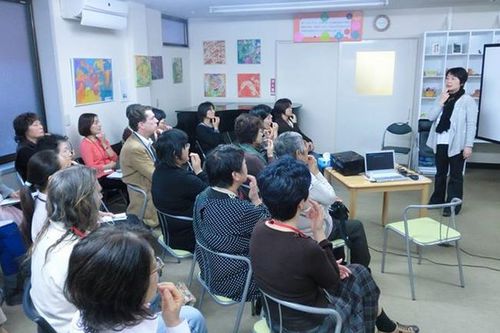 Copyright Heart Resilience Association All Rights Reserved.
Tohoku Fukko Nikki (Tohoku Reconstruction Diary), a weekly feature in the Tokyo Shimbun newspaper, delivers news and stories on reconstruction efforts in the communities devastated by the 2011 earthquake and tsunami. The articles are written through the JKSK Yui-Yui Project, an initiative to support survivors of the 2011 disaster by the non-profit organization JKSK Empowering Women Empowering Society. This month, we present below an article published in the March 8, 2016, issue about mental health care for disaster survivors.
An old man aged 83 told me, "Before reconstruction here" (pointing at his head), "I need it here" (pointing at his heart). I met him at one of the temporary housing sites built in Tome City, Miyagi Prefecture. He comes from Minamisanriku, an area severely hit by the earthquake and tsunami. He told me of his experience of losing his office building in which he had run a home construction business for 60 years. He saw his office building swept away by the tsunami.
Talking about reconstruction after the disaster, the priority is usually put on reconstruction of buildings and roads, or reconstruction of the economy. Needless to say, these are really needed; however, people's minds need reconstruction and healing as well. The old man's words indicate that it is hard for us to keep going forward while holding on to trauma, stress, anger, or worry.
When we lose our loved ones, feelings of sorrow and loss can still overwhelm us, even though time passes by, and in many cases those traumas are transformed into depression, alcohol abuse, or violence. Even though the victims survived the 2011 disaster, we may again lose them through suicide, addictions, or illness.
The Heart Resilience Association of Japan held lecture courses and personal sessions to help dissolve stress and trauma in 14 places across the Tohoku area, from 2013 through December 2015. In the courses and sessions, they introduced "emotional freedom techniques" (EFT), a form of counseling intervention internationally used in disaster-affected or conflict-affected areas. After the courses and sessions, we received many comments, such as: "A gnawing sense of insecurity is now gone;" "For the first time since the disaster I could sleep till morning without waking up in the middle of the night;" "I have been saved from a suicidal crisis;" and "Covered with a gray cloud, my view was dark for a long time, but now it's getting brighter."
Because it's been five years since the disaster, some people might think that survivors no longer need mental health care. In the disaster-stricken areas, however, everything is still in a slow process of being reconstructed. Looking at the present situation, we can never say the last disaster has become a thing of the past, and victims are suffering a lot of new stresses, as well. In Kesennuma City, for example, what was the downtown area before the disaster is still vacant, where so many people were killed. Such a view can be seen in many places across the devastated area, and people living there see it everyday. When we think of the mental condition of survivors, we are sure that our work to heal their minds is far from over.
Representative of the Heart Resilience Association
Ayuka Mizoguchi