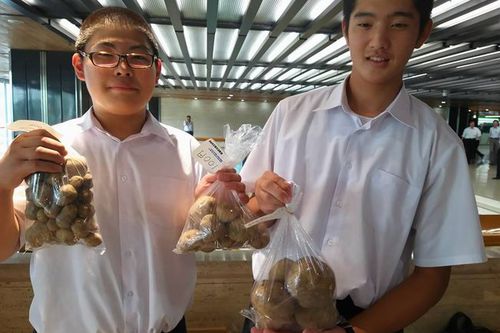 Copyright Takahata Kyosei Project All Rights Reserved.
The JKSK Yui-Yui project, an initiative to support people in Japan affected by the 2011 earthquake and tsunami, has been publishing a series of articles on reconstruction efforts called "Tohoku Reconstruction Diary" on the Tokyo Shimbun Newspaper. The Yui-Yui Project was launched by JKSK Empowering Women Empowering Society, a certified non-profit organization. Below we present the English translation of an article published on February 9, 2016, about efforts to overcome a reputational damage caused by the disaster.
The Takahata Kyosei Project to realize a harmonious community was launched by Waseda University and organic farmer volunteers led by Kanji Hoshi in Takahata Town, Yamagata Prefecture, located in northern Japan, following the Great East Japan Earthquake. The aim of the project is to rebuild the trust between farmers and consumers, which was lost in unfavorable rumors, and create a new partnership to pass on the relations to the next generation, by offering opportunities to experience a farmer's life in a rural community and vegetable cultivation.
The project first started with the Ao-oni Club in 2013, with the purpose of carrying out economical and sustainable partnership in the process of product distribution. It was named after an Ao-oni or blue oni (the Japanese term oni refers to an ogre-like creature), which is described in the folk story Naita Aka-oni (meaning "crying red oni") by Hirosuke Hamada, a story writer born in Takahata.
The club now has 40 members, including university students, teachers and people living in the Tokyo metropolitan areas. The club members, 25 to 30 of them, receive a package of sun dried organic rice every month using a home-delivery service, selecting a package of 3 kilograms, 5 kilograms or 10 kilograms. They have also signed a post-disaster agreement to support one another during emergencies, and launched an Ao-oni Farm, which is expected to share the value of self-sufficiency with farmers and consumers.
Members of the club grow as many as eight products at the farm, including flavorful soba, a local specialty green leaf vegetable called Seisai and daikon radish, receiving advice from local farmers. Takahata has been engaged in giving agricultural education since 1976 at every school in the town. Ao-oni Farm has rented the same field as Takahata Third Junior High School uses, and the school students also grow vegetables in the field.
To encourage communication and sending information on farming and food, Ao-oni Salon opened in 2013. In September 2015, during school trip to Tokyo, students of the Takahata School sold their products at Mainichi Media Cafe, located on the first floor of the Mainichi Newspaper headquarters, with their own pricing and ideas.
About 200 kilograms of farm products, including potatoes, watermelons and green soybeans, sold out in 15 minutes. When they performed songs such as Furusato (literal translation is "My Country Home") to share their memories after the earthquake, office workers in the area stopped for a moment, with some wiping tears from their eyes. We are now at the phase of recreating a partnership based on the trust between consumers and producers to overcome the unfavorable rumors, and practicing a sharing-oriented society.
Narumi Yoshikawa
Associate Professor of Prefectural University of Hiroshima
Visiting Associate Professor of Waseda Environmental Institute of Waseda University
Vice Representative Director of Takahata Kyosei Project