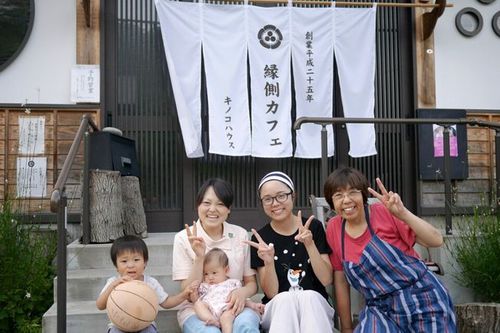 Copyright Kinoko House All Rights Reserved.
Tohoku Fukko Nikki (Tohoku Reconstruction Diary) is a weekly article that appears in the Tokyo Shimbun, a regional newspaper covering eastern Japan, and delivers news and stories on reconstruction efforts in the areas devastated by the 2011 Great East Japan Earthquake. The series of articles was submitted by the JKSK Yui-Yui Project, an initiative to support survivors of the earthquake by the Empowering Women Empowering Society, a certified non-profit organization. Here, JFS introduces an article published on January 19, 2016, featuring an initiative for a farm in Fukushima Prefecture.
The Fukushima nuclear accident devastated mushroom cultivation at our farm, Kinoko House ("mushroom house" in Japanese), forcing us to find another pillar of farming in order to survive as full-time farmers. As the levels of radiation in rice produced at our farm were not detectable after measurements of radioactive contamination, we believed that it was safe to process our rice for human consumption and started to work on "the sixth industry" - referring to the integration of production, processing and sales - using rice.
We created various products, including canned rice porridge, brown rice tea, puffed rice and brown rice bread. We recently completed "Hon-mirin," authentic sweet cooking rice wine, and named it "Sanjiro" after our ancestor who reclaimed rice terraces during the Edo period. We have also started to develop sweets using our Hon-mirin with the Internet-based funding mechanism of crowdfunding.
More recently, we came across another promising pillar; maple sap. When we opened our Engawa Café about three years ago in the town of Nishi-Aizu in Fukushima Prefecture, we discussed menu items and came up with the idea of serving pancakes with maple syrup. We did research to decide which maple syrup product we should use, and realized that most maple syrup products were imported from Canada. We then looked for made-in-Japan products, and found that maple syrup was in fact produced in Chichibu in Saitama Prefecture and Kaneyama in Yamagata Prefecture. We decided to visit these sites.
Wondering if we could produce maple syrup in the area around Engawa Café, we obtained sap from maple trees at the top of the mountain behind our rice terraces. We immediately measured the radiation in the sap, and confirmed no detectable levels. Last autumn, we finally completed our first batch of maple sap and maple cider products. This initiative received the Nihon Shokuryo Shimbun Award at the Sixth Industry Grand Prize, hosted by the City of Niigata. These products have attracted attention at trade shows, and received numerous inquiries.
We have managed to find new pillars for our farm, and although we still have much work to do, they represent great hopes for a bright future in the use of local resources.
Akiko Sato,
President of Kinoko House