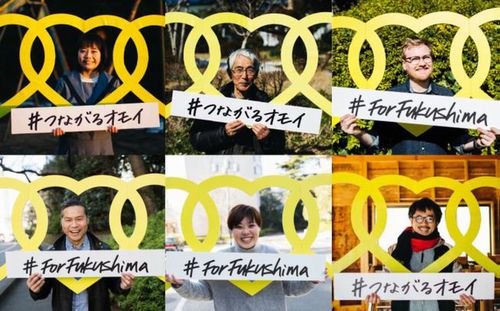 Copyright Lush Japan All Rights Reserved.
Five years have passed since the Great East Japan Earthquake hit Japan. A campaign called Bridging Feelings was held from March 1 to March 14, 2016, to convey sympathy to people who have been engaged in recovery and financial independence in Fukushima.
Lush Japan, a retailer of hand-made cosmetics and soaps, organized the campaign and launched three new products, two furoshiki and a soap, from February 15, 2016 leading up to March 11, the fifth anniversary of the earthquake. The company hopes to support the financial independence of Fukushima, whose farmland recovery has been the slowest among three affected prefectures; Iwate, Miyagi and Fukushima.
These products are made of materials developed by two organizations aiming for the so-called sixth industrialization by integrating cultivation, processing and marketing within the Fukushima area, and by recovering agriculture, farms and communities damaged by the disaster.
For example, furoshiki is made of Wamen, an indigenous Japanese cotton, organically grown by Iwaki OtentoSUN Enterprise based in Iwaki, Fukushima prefecture.
Iwaki had been suffering from a shortage of successors in agricultural industry for some time when the disaster hit the area. Since then, even more farmers have given up agriculture, and more farmland has become unused or abandoned. Facing these challenges, Iwaki OtentoSUN Enterprise was established. They have been cultivating, commercializing and marketing Wamen, which is resistant to salt damage, in order to revitalize the area and create employment opportunities by starting a new agriculture and textile industry.
The enterprise has integrated the processes from cultivation to marketing of pesticide- and fertilizer-free organic cotton, for which there is great international demand. They hope that the new industry will create jobs and lead to financial independence, as well as the recovery of agricultural land and local communities where once-close-knit ties had been severed by the disaster.
A soap called Tsunagaru Omoi, meaning linking feelings, is made of Yunachan, repressed rape-seed oil made by the Minami Souma Regeneration Agriculture Council. Oil-plants such as sunflower, soy beans and crucifer absorb radioactive substances from soil and these radioactive substances are not transferred to the repressed oil.
Oil-plants absorb radioactive cesium dissolved in the water in soil through root hairs. In the oil-press process, however, cesium-free oil and cesium-ridden oil cake are separated. Therefore, the contaminated land can be gradually cleaned by growing oil-plants, opening the way for revival of the devastated farmland and for revitalization of the damaged local communities. By concentrating these processes from cultivation to oil-pressing and manufacturing products in the local region, new industries can grow, leading to economic self-reliance.
As a part of this campaign, customers at retailers who sell these products take snap-shot photos in a yellow heart-shaped photo frame, the color of rape flowers, and post them on social media, where the yellow heart-shaped frames are linked together, symbolizing the public's sympathies going out to Fukushima.
To symbolize our hearts going out to Fukushima, and to push the people and land of Fukushima to move forward, photographs with two hashtags, #tsunagaruOMOI (meaning "link our sympathy together" in Japanese), and #ForFukushima have been posted on SNS.