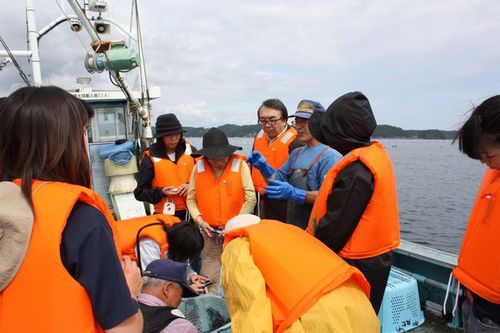 Copyright Tabimusubi All Rights Reserved.
Tohoku Fukko Nikki (Tohoku Reconstruction Diary) is a weekly article published in the Tokyo Shimbun Newspaper that delivers news and stories on reconstruction efforts in the areas devastated by the 2011 Great East Japan Earthquake. The articles are submitted by JKSK Yui-Yui Project, a non-profit organization that provides support to victims of the earthquake. Below is an article published on October 23, 2015, featuring a tour company that helps disaster-hit area recover.
I first thought of starting a tour company in 2009. I had been lecturing on human resources development back then, and in 2008, I had a chance to see a regional study program in the Kansai region that involved field work as well as lectures. In the field work portion, students shared first-hand stories about local producers and craftsmen, which made the program not just informative but also inspirational.
I was moved to create a similar program that would allow participants to learn from communities in Miyagi Prefecture. With the help of Miyagi University's Miyahara Research team, I gave lectures to provide basic information and then led fieldwork in Minami Sanriku, Higashi Matsushima, and other locations in the prefecture.
To establish the program as a business, I was preparing to start a tour company in 2011, when the Great East Japan Earthquake hit. Traveling was just not something you would think about in a time like that, especially with such horrific damage in Minami Sanriku and Higashi Matsushima, whose support my program had so much depended upon. But just as I had almost given up, someone passionately advised me that it was precisely the time I should start the company.
In June 2011, I founded my tour company, Tabimusubi. If there is one thing a tour company can do for the recovery process, my thinking went, it is to attract people and help them appreciate and sympathize with the disaster-hit communities.
Since then, over 2,000 people from the Tokyo metropolis, Kansai, and Tohoku regions visited disaster-hit communities on my tours. The main concept of the tour is to learn from regions. When I plan tours, I arrange places to visit that match the guests' specific goals.
For example, for a group interested in small businesses recovering from the disaster, I would arrange visits to Rikuzentakata in Iwate prefecture to meet with Michihiro Kono of Yagisawa-shoten who makes miso (soybean paste) and soy sauce, and to Kesennuma in Miyagi prefecture to meet with Sumio Saito and his wife Kazue, the president and the executive director of Saikichi-shoten who make and sell saury products. I would also recommend that the tour participants enjoy local cuisines.
Listening to people who have held their head high and worked hard to overcome the disaster always delivers a powerful message to tour participants. I hope to continue serving as a bridge between tour guests and people living in disaster-hit areas.
Masako Inaba
CEO,
Yui.net Co.
Tabimusubi Co.