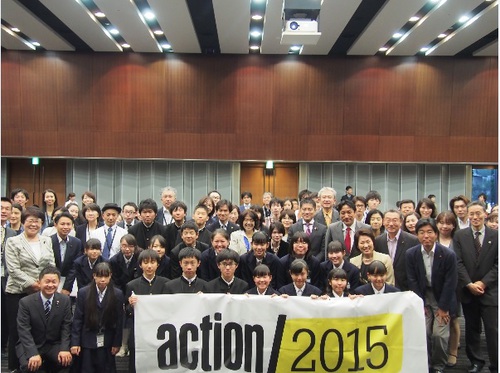 Copyrigh Ugoku/Ugokasu (GCAP Japan) All Rights Reserved.
Ugoku/Ugokasu (GCAP Japan), a national coalition of the Global Call to Action Against Poverty (GCAP), held an open dialogue between diet members and 15 students aged 15 years on sustainable development and environmental issues on October 7, 2015. At the event, 15 junior high school students shared their views and proposals with 17 Diet members and more than one-hundred people who joined and exchanged opinions to achieve sustainable development goals (SDGs).
Divided into three working groups, gender equality, education and energy, students from Higashi Junior High School in Ageo City, Saitama Prefecture, talked about the Japan and the world they want to see in 2030, and each group made the following proposals to achieve them.
1) The gender equality working group: Stereotypes such as "men get jobs, women do housework" should be overcome, as well as establishing a system to realize a society with good work/life balance.
2) The education working group: The number of teachers should be increased, with more spending on education and less on defense.
3) The energy working group: Existing solar cells should be reused in order to shift to clean energy.
Responding to these proposals, the Diet members expressed their opinions and some specific policies in progress. The event allowed everyone to take part in a question-and-answer session and offered an opportunity to discuss what individuals can do to achieve SDGs.