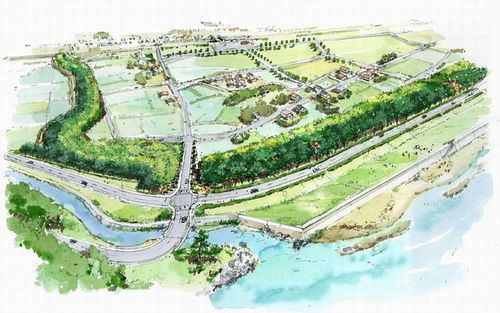 Copyright Fukushima Prefecture's Tomioka Public Works and Construction Office
All Rights Reserved.
The JKSK Yui-Yui project, an initiative to support people in Japan affected by the 2011 earthquake and tsunami, has been publishing a series of articles on reconstruction efforts called "Tohoku Reconstruction Diary" in the Tokyo Shimbun Newspaper. The Yui-Yui Project was launched by JKSK Empowering Women Empowering Society, a certified non-profit organization. Below we present the English translation of an article published on September 11, 2015, about an initiative to develop disaster prevention green spaces involving people outside the community.
"We will create a 12-hectare forest here. I hope people in Iwaki (a city in Fukushima Prefecture) and the Greater Tokyo Area will help us plant trees and create the forest," said Masahito Nemoto in spring in 2014, after losing his house and agricultural fields in the tsunami.
Along the coastline of Hirono Town in Fukushima Prefecture, a 50-meter wide disaster prevention green area with a total length of about 2 kilometers is steadily being developed. It will be almost fully completed by the end of this fiscal year and several types of trees, such as Japanese black pines, Machilus thunbergii, and tangerine (designated town tree), will be planted starting in March 2016.
In the meantime, Fukushima Prefecture's Tomioka Public Works and Construction Office has set up a group called Hirono Disaster Prevention Green Area Supporters Club, whose members are mainly the town's residents. The group has held seven meetings thus far to discuss where and what types of trees should be planted, and how they should be managed.
Since 2013, JKSK has assisted organic cotton production in Hirono Town on the farmland rented by the People, a certified non-profit organization based in Iwaki City. JKSK organizes a volunteer bus three or four times a year for people who want to participate in the volunteer work in the field. They have 30 to 40 participants each time, in all age groups and in a variety of occupations, including high school and university students, company employees, government employees and senior citizens. Four and a half years have passed since the earthquake, but the number of participants has never declined. Rather, we hear positive comments, such as "We want to continue to be involved in Fukushima."
Why has the number of participants remained steady? It may be because they share local residents' strong feelings toward regenerating their community, their passion that has led to the pioneering efforts in Iwaki, and their vision to encourage people to plant trees in the disaster prevention area, to monitor the growth of the trees, and to create a new hometown together.
After working and sweating in the field, volunteer bus participants and local residents have had a number of opportunities to exchange opinions. And this year, thanks to the New Tohoku Model Pilot Project led by the Reconstruction Agency of Japan, JKSK is engaged in the Hirono Wai-Wai Project to make the town full of life (Nigiwai) and jobs (Nariwai). Tomorrow (September 12, 2015), we will again sweat in the cotton field, and hold a workshop in the afternoon on the development of products utilizing local rice, cotton, tangerines and other agricultural products.
Written by Junko Owada,
JKSK Empowering Women Empowering Society