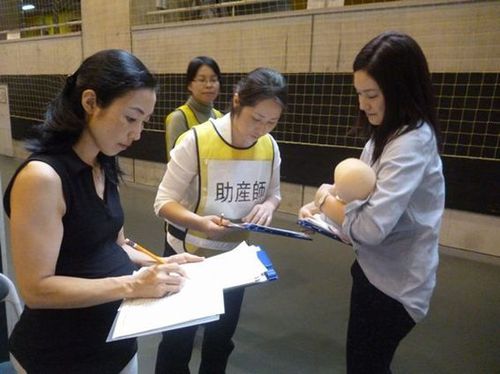 Copyright National Institute of Public Health All Rights Reserved.
Tohoku Fukko Nikki (Tohoku Reconstruction Diary) is a weekly article that appears in the Tokyo Shimbun, a regional newspaper covering eastern Japan, and delivers news and stories on reconstruction efforts in the areas devastated by the 2011 Great East Japan Earthquake. The series of articles is submitted by the JKSK Yui-Yui Project, an initiative to support survivors of the earthquake by the Empowering Women Empowering Society, a certified non-profit organization. Here, JFS introduces an article published on September 4, 2015, featuring an initiative to create a system to help save the next generation in times of disaster.
Consideration of disaster prevention efforts tends to focus on things like building houses or making cities resilient to a disaster. From my experience, however, of visiting survivors at evacuation shelters in coastal areas of Miyagi Prefecture just after the Great East Japan Earthquake, I've become keenly aware of the need to create other strategic systems as well, such as systems to provide medical resources, to secure access to hospitals, and to save those who are at risk in health issues even though they may not be severely hurt.
Now that we live in a society facing critical declines of both population and birthrates, it is particularly important to create systems to save the lives of expected mothers and infants. Pregnant women have various health risks but there is a finite term of risk, of ten months. In the big disaster, local governments did not have clearly-defined support systems to care for pregnant women and newborns, who are temporarily in need of care, so some may have "fallen through the cracks" in many sectors for example health care, medical care, public welfare and disaster management and no sector prepares well beforehand to be in charge of those vulnerable population at disaster.
At the time of the Great East Japan Earthquake, the disaster foisted so much work and problems onto the local governments in the devastated area, and baby-delivery was another issue too big to handle for the governments. Municipalities lacked the capacity to cover both of the issues at the same time. Without prior setup of supporting systems, the next generation will never be protected against disasters. Because pregnant women and infants are the smallest minority in Japan, where the child population ratio is 12.8%, the lowest in the world, it is not easy to appeal for their needs, so they hardly receive any support.
Learning from the experiences of the Great East Japan Earthquake, several municipalities have begun an initiative to plan support systems for mothers and infants. They prepare evacuation centers dedicated to mothers and infants and to provide instructing and training. When a disaster hits, mothers and infants will evacuate to a maternal and child shelter so that they can receive relief supplies and information quickly. Mothers are also able to provide mutual support.
Other industrial countries are also facing the issue of rapidly aging populations, and as global warming proceeds, disasters involving wind and flood damage are increasing globally. Besides frequently experiencing natural disasters, Japan also has the world's highest proportion of elderly, at 25.78 percent (global average 8.06 percent), and one of the lowest birthrates, at 1.43 (global average 2.46). I hope that Japan can manage to create good systems to protect the vulnerable during disasters by learning from its experiences and then sharing what it learns with other countries.
Honami Yoshida
Senior Researcher
National Institute of Public Health