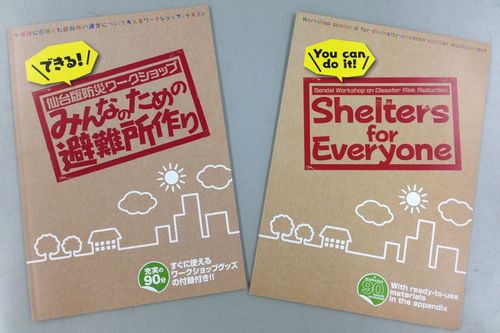 Copyright Member of the Sendai Disaster Risk Reduction Project Team All Rights Reserved.
Tohoku Fukko Nikki (Tohoku Reconstruction Diary), a weekly feature in the Tokyo Shimbun, delivers news and stories on reconstruction efforts taking place in Japanese communities devastated by the 2011 earthquake and tsunami. The articles are written through the JKSK Yui-Yui Project, an initiative to support victims of the disaster by the non-profit organization JKSK Empowering Women Empowering Society. This month, Japan for Sustainability presents the English translation of one of the articles, published on April 24, 2015, about an initiative to communicate the experiences and efforts of people who actually experienced the disaster.
"When our loved ones are in danger, we rush to save them."
This is our universal desire as human beings. In February 2015, a frigid season in Japan, I was walking along the street with my six-year-old daughter when she asked me, "What's that about, Mom?" I looked up and saw the flags of the United Nations World Conference for Disaster Risk Reduction (WCDRR) fluttering in the wind to show the conference was coming soon. All of a sudden, memories of the days in 2011 when I had desperately struggled to protect my daughter, who was three at the time, my junior staff at work, and my parents-in-law, who have disabilities, flashed back to me and I began to cry.
The conference, held in Sendai City, Miyagi Prefecture, for five days the following month, turned out to be the largest in Japan to date, gathering delegates from 187 UN member states and more than 150,000 participants in total from home and abroad. All walks of society were represented: non-political organizations, citizen groups, professionals such as medical workers, welfare workers, architects, farmers, and fishermen--all gave presentations from their own unique perspectives at the conference. This multi-stakeholder gathering helped us ordinary citizens to realize that our lives owe a great deal to the cooperative work of numerous people, and that no one is an island.
One program at the conference was centered on the theme "Disaster Prevention from Women's Perspectives." Our team held a workshop for the program, titled "Thinking about Evacuation Center Operation: Disaster Risk Reduction Workshop in Sendai." Women who had experienced the disaster in the Tohoku area exchanged ideas and opinions with participants from other areas of Japan. Participants from abroad joined the workshop as observers. They were pleased to receive an English version of the guidance text we had prepared for the conference.
The workshop earned nationwide coverage from NHK, Japan's public broadcasting corporation, and since then we have had many calls from media asking for interviews with mothers who had stayed at an evacuation center with their infant children. At first, mothers turned down the interviews, saying, "I have nothing useful to tell." Since seeing elementary school children courageously tell their experiences of the tsunami at the symposium, however, they have gradually come to change their minds. The mothers realized the importance of sharing their experiences with a wide audience. Now they say, "If it will help somebody, we want to tell our experiences."
Telling stories of our experiences, making our own suggestions for preventing and reducing disaster risk, and communicating the reconstruction efforts taking place here in Japan are all things we can do to help future victims of disaster at home and abroad.
Mika Mano,
Member of the Sendai Disaster Risk Reduction Project Team