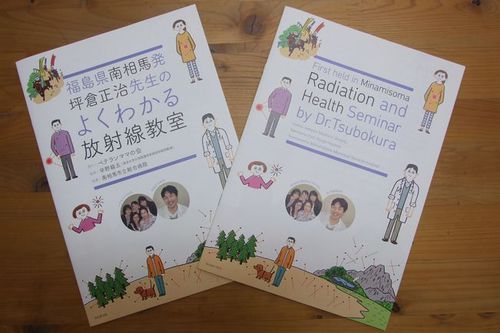 The Veteranmamas Group, a citizen group in Minamisoma City, Fukushima Prefecture, edited and published a booklet entitled "Doctor Masaharu Tsubokura's Easy-to-Understand Lecture on Radiation, from Minamisoma, Fukushima" in August 2014. Doctor Tsubokura, an internal medicine physician specializing in blood, began medical support work in Minamisoma City immediately after the Great East Japan Earthquake on March 11, 2011. Since then, he has been supporting people in Fukushima by focusing particularly on internal radiation exposure.
The Veteranmamas Group is a citizen group created after the disaster with the aim of supporting young mothers, children and aged people in the city. With the help of Doctor Tsubokura, the group had set up a number of study meetings on radiation for citizens.
The booklet contains basic and general information on radioactive materials, such as methods for measuring amounts of natural-background radiation and potassium-40, which is a natural radioactive material present in food materials, and radiation exposure levels. In addition, based on the experience of these study meetings, the booklet also contains information that answers questions from citizens. By citing data, it notes that internal exposure has not been increased by consuming current food products and tap water, and explains that unlike bacteria, radiation does not infect to others.
The English version of the booklet was also published in November 2014.