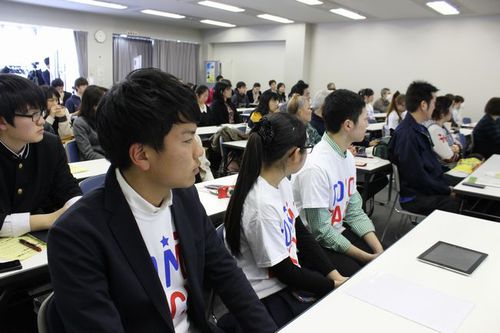 Copyright U.S. Japan Council All Rights Reserved.
Tohoku Fukko Nikki (Tohoku Reconstruction Diary), a weekly feature in the Tokyo Shimbun, delivers news and stories on reconstruction efforts in the communities devastated by the 2011 earthquake and tsunami. The articles are written through the JKSK Yui-Yui Project, an initiative to support victims of the 2011 disaster by the non-profit organization JKSK Empowering Women Empowering Society. This month, Japan for Sustainability introduces one of the articles, published May 8, 2015, about a message written by a high school student and presented at a side event of the third United Nations World Conference for Disaster Risk Reduction (WCDRR).
The third WCDRR was held from March 14 through 18, 2015, in the city of Sendai, and was attended by approximately 150,000 participants. In parallel with the conference, various forums were organized to convey lessons learned and the current state of reconstruction in areas hit by the Great East Japan Earthquake to the world. As a high school student, I made a presentation titled "From Tomodachi (friends) to Miyagi, from Miyagi to the World" at a thematic pavilion called "Civil Society Collaboration and DRR."
Other presenters included eight groups of high school students who are making efforts for their regions in the three hardest-hit prefectures of Iwate, Miyagi and Fukushima, in such ways as selling farm products, the sales of which are suffering due to rumors, and publishing informational magazines aimed at high school students. Approximately 120 people attended, including members of prefectural assemblies and government officials from Japan and abroad.
After the quake, not only I, but many high school students have been playing an active part for the sake of our hometowns, while still being busy with studies and extracurricular activities. We who experienced the disaster and learned much from it cannot forget the problems before us.
I conveyed my thoughts to the audience about why I take on challenges which a high school student can also overcome, and also those which only a high school student can overcome. The audience shared encouraging words and promises of support. It was a valuable experience for me to attend the WCDRR.
In the conference, I cultivated relationships with high school students engaged in disaster prevention throughout Japan, and with adults working for the Japanese government and in various parts of the world. In the forum with the theme "Lessons from Miyagi, Iwate and Fukushima," I met students from the Broadcasting Club of Soma High School in Fukushima. We talked about a plan to hold events in Sendai this summer to present a play and a documentary video about the accident at the nuclear power plant.
I love my hometown Sendai, where various problems about employment, welfare and depopulation have surfaced after the quake. I think these problems existed even before the quake and epitomize nationwide problems
That's why we want to restore our hometown not to how it used to be, but to a more livable city. We will move forward, hoping to build a better society, just as did Kaientai and Shokasonjuku who played key roles during the Meiji Restoration in the 19th century in Japan.
Moka Sato,
Third-year student,
Miyagino High School,
Miyagi Prefecture, Japan