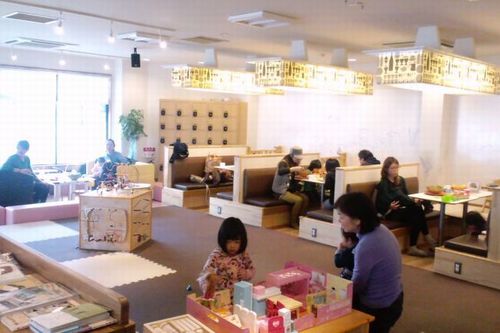 Copyright 37 Republic All Rights Reserved.
Tohoku Fukko Nikki (Tohoku Reconstruction Diary) is a weekly article which appears in an Eastern Japan newspaper called the Tokyo Shimbun, and delivers news and stories on reconstruction efforts in the areas devastated by the 2011 Great East Japan Earthquake. The series of articles is submitted by JKSK: Empowering Women Empowering Society, a certified non-profit organization, and focuses on an initiative called the Yui-Yui Project, which supports survivors of the earthquake. This time, JFS will introduce an article published on March 20, 2015, featuring an initiative to support parents with small children.
Yotsuba Nursery School in Minami-Soma, Fukushima Prefecture, held its fifth graduation ceremony since the Great East Japan Earthquake of 2011 in March 2015.
Parents raising children in the area worry every day about the effects of radiation from the nuclear power plant accident. To rebuild a feeling of safety, I, as vice principal of the nursery school, have engaged in decontamination work with volunteers at our school and at houses where small children live, and have helped build playgrounds as part of the activities of a non-profit organization (NPO) called 37 Republic (Everyone's Republic) launched by parents concerned about the environment surrounding their children. With corporate support, we have also installed playground equipment and built a pond named Jabu Jabu Ike in Takami Park.
As a sense of security grows among parents, the number of newborn babies has also begun to increase, to the level that there are now waiting lists for enrollment in local nursery schools. When parents can't find a nursery school for their child, one of the parents has to put off returning to work to look after the child at home alone.
The number of mothers who are stressed and struggling with parenting alone is increasing rapidly in the nuclear disaster-stricken areas. Providing mental support to parents with infants who are 0-2 years old is in demand, but it is surprisingly hard to find facilities for alleviating the stress and concerns of mothers. Seeing this, I thought it essential to provide a place where mothers can drop by to chat with other moms or consult someone about their concerns.
After developing the idea with colleagues into a concrete plan, we opened the 37 Cafe in November 2014 to support parenting. The cafe offers a place to eat and drink, and provides sufficient play space for children. The cafe is designed as a place to meet other parents and children, to let all the stress and worry from parenting melt away, and to learn through workshops.
With support from individuals and companies nationwide in favor of the concept, 37 Republic operates the cafe. The names of the sponsor companies are posted in the cafe, so as to benefit the companies who are willing to support parenting in Minami-soma. In this regard, the cafe also serves as a link between companies and families.
Minami-soma is a place where people connect and share thoughts. The late spring in our city has finally sprung.
Yoshiyuki Kondo
Vice Principal
Yotsuba Nursery School