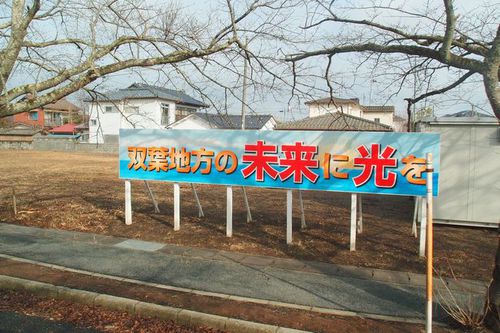 Shining the Light on the Future of Futaba
Copyright Yayoi Minowa All Rights Reserved.
A weekly column called "Tohoku Reconstruction Diary" (Tohoku Fukko Nikki in Japanese) in the regional newspaper "Tokyo Shimbun," which covers eastern Japan in delivering news and stories on reconstruction efforts in the areas devastated by the 2011 Great East Japan Earthquake, published a series of articles submitted by the "JKSK Empowering Women Empowering Society," a certified non-profit organization, about an initiative called the "Yui-Yui Project" that supports victims of the earthquake. We present here a translation of an article published on February 20, 2015, featuring the efforts of communities affected by the accident at the Fukushima nuclear power plant following the 2011 earthquake.
Before the Great East Japan Earthquake, Yonomori -- a community in Tomioka Town -- was one of the best cherry blossom-viewing sites in Fukushima Prefecture. It's as if time has stopped in Yonomori since the earthquake, seen in things like the large number of bags still lined up along the roadway between the towns of Naraha and Tomioka that are filled with soil and dry grass collected in the process of decontamination of radioactive materials.
"I used this roadway as a school route during my high school days," says Hideaki Niitsuma, who grew up in Naraha and went to high school in Tomioka. He acts as a guide and a storyteller of the community. After the quake, he joined the Iwaki Otento SUN Enterprise Cooperative, whose aim is to create Fukushima's new future by harnessing renewable energies. In the cooperative, he is in charge of study tours to introduce his hometown to visitors in his own words. This time, I participated in its "CSV matching study tour aiming to consider the reconstruction of Hirono Town," co-organized by the JKSK, and I toured the towns of Hirono, Naraha, and Tomioka in Futaba County.
An evacuation notice has been lifted in some areas of Naraha and Tomioka, and Naraha Town has set a target of enabling local people to live in the town starting in the spring of 2015, but there are still many problems to solve. Niitsuma asked us, "Would you feel like going back to and living in a place next to a temporary storage space for radioactive materials?" This question made me better understand the fundamental, serious problems of nuclear power plants.
Meanwhile, in Hirono, which is next to Naraha, 30 percent of the local people have returned to their hometown, showing a new movement for the town's recovery. Projects have started up, such as the Fukushima Organic Cotton Project, where local people grow Japanese cotton organically and manufacture products from the harvested cotton. The cultivation of organic cotton has expanded from Iwaki City through Hirono Town.
I also saw the construction site of Hirono Community Electric Power -- a photovoltaic power generation system with an output of 49 kilowatts -- which is being built on town-owned land. Revenues from the sale of electricity generated in the system will be allocated to management costs of cotton fields and disaster-prevention green spaces. The town plans to hold workshops on tree planting and effective ways to use the green spaces being constructed in the Asami River District, with a view to promoting interactions among people in and outside of the community, as well as creating job opportunities.
Each of the communities in Fukushima Prefecture has completely different issues. Particularly, Futaba County is under the most severe conditions, so I felt that Futaba's reconstruction is like a mirror reflecting Japan's future.
Yayoi Minowa
Environmental Journalist