JFS Newsletter No.152 (April 2015)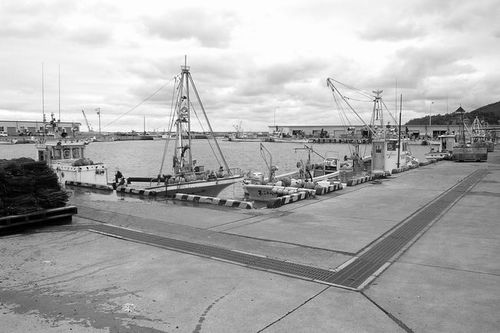 Copyright Kagaribi All rights reserved.
The "transition town" movement from the United Kingdom and local energy projects are spreading, with numerous initiatives and projects to reexamine the concept of local economy being launched in Japan and the world. JFS's own "Local Well-Being Project," launched in April 2013, looks at some examples, in sections on work style, community, and economy (local currency, local investment, and local autonomy) on its project webpage (English version in progress).
These are relatively new and ongoing initiatives, but some local communities already have their own traditional schemes to protect their local economy and the well-being of residents. In this issue of the JFS Newsletter, we introduce some unique approaches to protect the local economy and community, through this article by Kanichi Sugawara (in translation). It was originally published in the magazine "Kagaribi" ("Bonfire" in Japanese) in December 2010, and appears here with the permission of the author and the journal's editorial team.
Lake Saroma (also known as Saroma Lagoon) is a brackish water body in Abashiri Quasi-National Park on the island of Hokkaido in northern Japan. With a surface area of about 150 square kilometers, it is the third largest lake in Japan.
---
Abundance at Lake Saroma, Japan: Saroma Fishery Cooperative Practices Socialism within a Capitalist System (Part 1), by Kanichi Sugawara

Fishermen in Japan are stereotyped in images that appear in "enka" (Japanese ballads) sung by famous singers, including Saburo Kitajima and Ichiro Toba. In the story, they go fishing in spite of rough seas, wearing "hachimaki" headbands and bleached cotton bands around their waists. They are bold and courageous, guzzle the sake, and spend their money as soon as they earn it.
But the members of the Saroma Fishery Cooperative in Hokkaido are far from such stereotypes. They never sail out into stormy seas. Some don't even drink alcohol. And they carefully save the money they've earned. More precisely, they are forced by the cooperative to save their money. Therefore, they are not free to spend as much as they want. Here we introduce the Saroma Fishery Cooperative's socialist-like system within a capitalist society.
Fishery Cooperative Manages Members' Money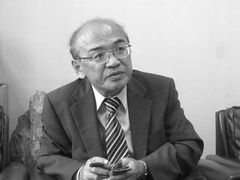 Yoshiteru Abe, President of of the Saroma Fishery Cooperative
Copyright Kagaribi All rights reserved.
"In Japanese society nowadays, no one is criticized for spending the money they have earned, any way they wish. But that's not the case with the fishermen members of the Saroma Fishery Cooperative. The money they've earned is managed tightly by the cooperative," Yoshiteru Abe, president of the cooperative, says with a chuckle.
The cooperative has 59 regular members, and their deposits amount to 6,743.37 million yen (about U.S.$56 million), or an average of 114.29 million yen (about $952,000) per member. In fact, some members have over 200 million ($1,670,000) while others are below 100 million (about $830,000). Averaged out, they are all quite well off.
The value of the annual catch by each fisherman in Saroma is between 18 million and 25 million yen (about $150,000 to $208,000).
Let's take an example of a fisherman with an annual catch of about 20 million yen (about $167,000). About 92% of his annual income, or 18.4 million yen (about $153,000), is deducted by the cooperative. This percentage breaks down according to the following purposes: first, under the cooperative's monthly deduction system on a year-by-year basis, 70% of his annual income, or 14 million yen, is unconditionally deducted and put into his saving account. This saving will be spent for his living costs in the next year. Of this, 10% of his income, or 2 million yen, is reserved for paying taxes. A tax accountant for the cooperative deals with paying his taxes after individual consultation. An additional 6%, or 1.2 million yen (about $10,000) goes to commission charges for the Saroma Fishery Cooperative and Hokkaido Federation of Fishery Cooperatives; 2%, or 0.4 million yen (about $3,300), goes to a reserve fund for replacing equipment, including fishing boats; 2%, or 0.4 million yen, goes to savings for covering living expenses in case of a poor catch due to bad weather; another 2%, or 0.4 million yen, goes to endowment savings to prepare for retirement due to age. The total amount this fisherman can spend at his own discretion is merely 8% of all his income, or 1.6 million yen (about $13,300).
The reserve of money deducted monthly from the previous year covers the cost of living of the present year; for example, his monthly savings from 2009 were used for living expenses in 2010. In other words, money deducted from the present year's income is all passed on to the following year. Even if he becomes unavailable to work for a full year due to illness, he can live with the money saved the previous year.
"The total amount of 14 million yen (about $117,000) in a year, deducted monthly, is not all spent for everyday life. A couple of hundred thousand yen (around $3,000) should suffice to cover monthly living costs, including spending for food, transportation, education, clothes, leisure, and public utilities. Although expenses for fishing, such as payments on fishing equipment and forklifts as well as for buying heavy fuel oil, are paid from the saved money, a considerable amount of money still remains, which is saved every year, allowing the member fishermen to have nearly a hundred million yen (about $833,000) in savings.
All members are asked to submit an annual fisheries management plan by January 15th every year. The plan must contain not only a fishing plan for the year, such as a monthly delivery schedule of products such as scallops, shrimp, and oysters, but also an estimate of monthly household costs, which include big purchases and life events of the year such as replacing a forklift, financial support for children going to college away from home, a daughter's marriage, and house renovations. In accordance with the plan, a person from the cooperative and its member discuss if each expense is reasonable. If one shows an intention of building a house despite his low savings, for example, the person in charge advises against it, saying, "It may be early to build a house. Why don't you wait just a little more?"
The cooperative, therefore, understands not only the makeup of each member's family but also the details of how they live, and actually gives lifestyle guidance to them.
"Even if we allow members to build a house or buy a boat, we won't let them withdraw money from their savings. Instead, we lend them up to 80% of the amount of their savings, because we fear that they could become too careless about spending money if they have their own money in hand. If it is money lent from the cooperative, which has to be paid back every month, a good sense of tension over the usage of money continues. I hear that at one time fishermen would earn tens of thousands of dollars in one fishing trip, put all the money in their pockets, and spent it lavishly at hostess bars. The members and staff of our cooperative are all steady workers, almost like salary-based workers. No palatial homes or expensive cars like Mercedes Benz and Porsch can be found in the town of Saroma. On the other hand, no one suddenly leaves town to avoid money troubles. The wisdom of our predecessors is still alive here to preserve our lifestyles while enjoying the bounty from Lake Saroma."
This system was introduced in 1971, and no one raised an objection by saying, "I don't want the cooperative to interfere with my personal life."
Wisdom of Predecessors -- Regular Meetings
It was in 1965 that the Saroma Fishery Cooperative started scallop cultivation. Though fishermen were thankful for the harvest from the Okhotsk Sea, they had good catches in some years and bad catches in others. It seemed like leaving the matter to chance. They were also concerned about overfishing under free competition. Thus, the cooperative began to work on cultivating scallops to help its members have more financial stability.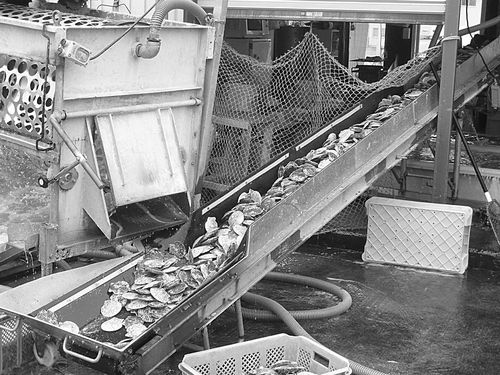 Copyright Kagaribi All rights reserved.
Abe says, "In 1964, before the current system of the cooperative was established, its annual sales were 76 million yen (about $633,000) and bank deposits of the members were 72 million yen (about $600,000) in total. Being afraid that its business would dwindle in such a situation, the president of the cooperative and its members of the day began to study scallop farming and launched an aquaculture business in 1965. At that time, the cooperative did not have the funds for a new business and asked its superior body, JF Marine Bank Hokkaido, for a loan of 156 million yen (about $1.3 million), but the bank denied the loan to the cooperative because its sales and savings amounts were small. Without money, the cooperative could not begin scallop cultivation. Then, the Saroma town government offered a helping hand to the financially troubled cooperative, by guaranteeing its debt. The town agreed to serve as a loan guarantor, which meant that the cooperative could take out a loan on the security of all the tax money paid by town residents. The president at that time repeatedly told its members 'Our fishing industry does not rely on merely fishermen's efforts. We should never forget that we owe a lot to all the town people.' This advice is still very much with us today."
Thanks to the Saroma system, the cooperative today boasts the some of the highest average savings levels per member among fishery cooperatives in Japan. Even fishermen earning a high income have a moderate life as a resident in Saroma, without engaging in a spectacular lifestyle.
Regular meetings held monthly serve an important role in maintaining this unique system. Participants include the 59 regular cooperative members, as well as 31 youth members as successors, who are mainly sons of the regular members. Information from the cooperative is delivered by fax to the members almost every day. When there is an important topic, it sends them faxes twice or even three times a day. The cooperative is very active in disclosing information. The date of the regular monthly meeting is also sent by fax.
Abe says, "If all the members get together, there are 90 participants. About 80 percent of the members participate in the monthly meetings. At the meetings, besides announcements from the cooperative, such as the prices of fishery products and trends in fish catches, members hold thorough discussions on various things including their requests, proposals, appeals, and concerns. Some time ago, during the period of the economic bubble (in the late 1980s and early 1990s), there was an opinion that the cooperative should invest some money from their enormous funds in equities and share the profits among members. However, most of the members agreed that fishermen should earn their living only from fishing, without making extra income on the side. Our motto is 'low population, high abundance.' When we cannot come to an agreement on an agenda at a monthly meeting, the agenda is to be discussed by the relevant committee, such as the management committee, member certification committee, executive remuneration committee, savings promotion committee, or marketing promotion committee, and the final decision is made at a general meeting."
Direct democracy is functioning well here in the Saroma Fishery Cooperative.

To be continued in Part 2.