JFS Newsletter No.151 (March 2015)
In recent years, individuals, organizations, and governments around the world have continued working to create new models for cities and communities. The Japanese government, for instance, launched its environment-friendly "FutureCity" Initiative (FCI) in 2011. To follow up on previous stories on the FCI in the JFS newsletter, this issue gives an overview of the FCI's fourth-year efforts, based on updated information from Japan's Cabinet Office.
---
About the FutureCity Initiative
The basic concept of the FCI is to create cities that embrace new, people-friendly values in order to deal with environmental issues and an aging society. Its goal is to solve problems faced both in Japan and around the world -- such as resource and energy constraints, global warming, and aging societies -- by establishing more sustainable social and economic systems, and restoring a sense of social connectedness. Its aim is also to increase peoples' quality of life and turn cities into places where anyone would want to live and enjoy their vitality, as new sources of value continually come into being. Under this vision, a total of 34 cities -- 11 "Future Cities" and 23 "Eco-Model Cities" -- had been selected by the Japanese government as of March 2015.
Towards Cities Where Anybody Would Want to Live: The "FutureCity" Initiative
http://www.japanfs.org/en/news/archives/news_id034802.html
Future Cities and Eco-Model Cities
Overview of the goals and activities of eleven Japanese cities selected as Future Cities, as of March 2015.
Besides the FutureCity initiative, a total of 23 cities have been selected as Eco-Model Cities.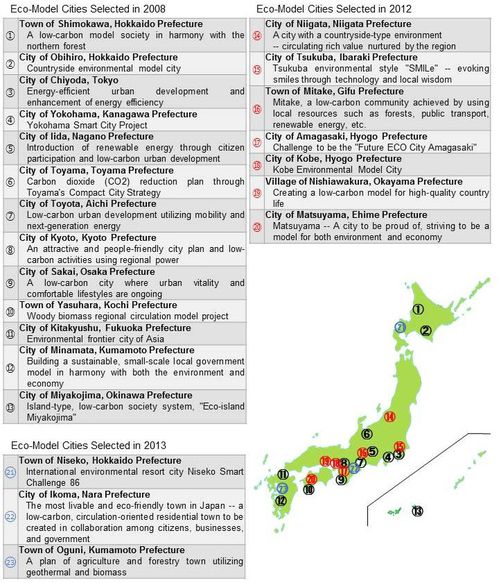 FCI Activities in Fiscal 2014: International Forums Held, Articles and Case Studies Published, Project Updates
Japan's Cabinet Office and Cabinet Secretariat have annually held the "FutureCity" Initiative International Forum with the aim of increasing understanding and expanding support of the initiative, sharing leading case studies from Japan and the world, and building and strengthening an international network. In fiscal 2014, the international forum was held in Johor Bahru, Malaysia, as well as in Higashimatsushima, Miyagi Prefecture. The forum in Johor Bahru was the first forum held overseas.
FutureCity International Forum Held in Higashimatsushima
http://www.japanfs.org/en/news/archives/news_id035192.html
The international forum in Higashimatsushima was held on December 6, 2014, under the theme of "Improving Resilience and the FutureCity Initiative." The keynote speakers were A. Carsten Damsgaard, the Danish ambassador to Japan, and Holger Schou Rasmussen, the mayor of the municipality of Lolland, Denmark, a country with which Higashimatsushima has a close relationship. In addition to the keynote speakers, seven guest speakers were invited from Japan and abroad, and about 250 people from home and abroad participated.
During one of the morning sessions, Hideo Abe, the mayor of Higashimatsushima City, delivered a presentation about the city's reconstruction efforts and the importance of people being connected with each other in the community during ordinary times.
In the panel discussion sessions in the afternoon, representatives from participating cities and experts held discussions along certain themes, ending up with the common understanding that efforts aimed at the FCI that embrace both the "hardware" side, such as buildings, facilities and infrastructure, and the "software" side, such as community and consensus-building, will enhance resilience. As a result, a discussion of future challenges was shared among the participants.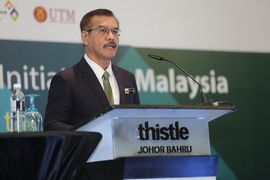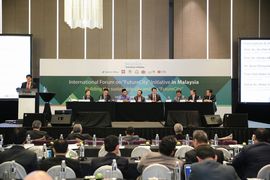 The international forum held in Johor Bahru, Malaysia, on February 8, 2015, had the theme of "Building the Sustainable City and the FutureCity." About 300 participants gathered from over 10 countries, including Japan and Malaysia, as well as guests from the host city, including Dato' Haji Abd Rahman bin Mohamed Dewam, the mayor of Johor Bahru City, YBhg. Dato' Halimi bin Abdul Manaf, Deputy Secretary General, Ministry of Urban Wellbeing, Housing and Local Government, and Dr. Dahlia binti Rosly, Director-General of Federal Department of Town and Country Planning Malaysia (JPBD).
The Malaysian state of Johor is currently the venue of Iskandar Malaysia, an ongoing national development project aiming to develop a sustainable city using different approaches from fields such as architecture, transport, urban governance, and so on. Under this development plan, Malaysia is striving for a 40-percent reduction in CO2 emissions by 2020 compared to the 2005 level.
At the international forum in Johor Bahru, speakers introduced case studies from Malaysia and Japan, and panelists discussed the potential of adopting the FCI model to develop Malaysian and other Asian cities. Business matching between both countries played a big role at the international forum, too, bringing about fruitful outcomes towards future collaboration among participating cities.
FutureCity International Forum Held in Higashimatsushima
http://www.japanfs.org/en/news/archives/news_id035192.html
FutureCity Initiative Holds International Forum Overseas for First Time
http://www.japanfs.org/en/news/archives/news_id035202.html
Featured Articles about Future Cities
The FCI published some more articles about Future Cities based on interviews and site visits, followed by the ones about the cities of Toyama and Higashimatsushima in fiscal 2013. These articles cover their advanced efforts, and are intended for use as references for other cities to launch similar initiatives. They provide not only the FCI efforts in detail, but also focus on key players at the forefront, in person, also helping to publicize the attractions of each city.
The cities of Kashiwa and Yokoyama will provide useful case studies of smart cities that use advanced technologies. The article about the city of Kitakyushu can be useful, as it covers how the city shares its experiences and technologies with the world.
The city of Toyama is already known for its efforts to be a compact city, while it also actively promotes the use of micro-hydro electricity generation. With regard to locally-produced energy, the case studies of the Kesen Region and town of Shimokawa, which promote forest-based energy production, are useful.
Regarding disaster reconstruction efforts, initiatives of the Higashimatsushima Organization for Progress and Economy Education Energy (HOPE), in the city of Higashimatsushima, Miyagi Prefecture, and a collective relocation plan in the Tamaura Nishi District in the city of Iwanuma, Miyagi Prefecture, present different approaches to community reconstruction. Minamisoma Solar Agripark in the city of Minamisoma, Fukushima Prefecture, emphasizes training for future generations, not just current community reconstruction efforts. The town of Shinchi, Fukushima Prefecture, is trying to utilize information technology not only for visualizing the volume of electricity generated from solar but also for environmental education for children.
Among disaster-affected areas, the Kesen Region established an association to improve medical, nursing, and health care as well as public welfare in an aging neighborhood. The city of Kamaishi will provide a good example of comprehensive welfare in a community from its industrial welfare coalition of health, medical care, and welfare and nursing care based on the life support center.
These articles are available in Japanese in the section of "Ways to Develop Sustainable Cities" on the website of Future City, Eco Model Cities.
http://future-city.jp/torikumi/
In addition, the FCI estimated the economic impacts on surrounding areas from the cities' initiatives. In its fourth year, the circumstances in the selected cities are changing. While responding flexibly to such changes, the FCI and selected cities will continue to review their progress, aiming to produce outcomes that are relevant for the world.

Edited by Nobuhiro Tanabe