JFS Newsletter No.151 (March 2015)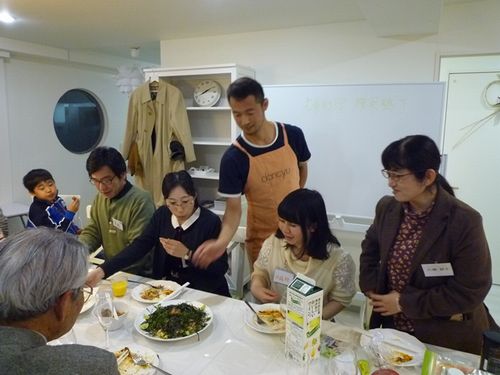 Salvage Parties or "Salpa" have been attracting attention in Japan. At a Salpa, a professional chef cooks high-quality dishes using leftover ingredients brought from the homes of party participants. The word"salvage" originally meant "to rescue an imperiled ship." These parties bring many benefits through the "rescue" of food left in refrigerators, which otherwise would have soon spoiled.
Salvage Party (in Japanese)
http://salvageparty.com/
Satoshi Hirai, who invented the Salpa, serves as Salvage Party representative director and "total food producer." He put the Salpa concept into practice in 2013 to create a venue for thinking about food in Japan, where huge amounts of food go to waste. The movement has spread nationwide.
Party Featuring Chef's Impromptu Cooking
How does a Salpa proceed? Here I will describe a Salpa held on January 24, 2015 at a salon in Shibuya Ward, Tokyo.
There were 13 participants, all of whom were women except Hirai, party host, and Shimpei Matsumoto, salvage chef of the day. Most of the women were housewives in charge of home cooking. They brought food ingredients left unused at home and placed them on a table that filled up with canned and dried foods, pasta and vegetables.
First, each participant introduced herself by speaking about why she had brought her ingredient to the party.
"My parents sent me a lot."
"I was given so many special souvenirs that I couldn't consume them all."
"I bought them for emergencies, but I don't know how to cook them."
"I bought bulk food at a large supermarket but I cannot eat it all."
The reasons varied but every reason seemed to convey the respective kitchen situation. The participants listened eagerly to each other.
The chef went to work right away, cooking according to his inspiration. He had received no information about prospective ingredients, nor had he made arrangements for ingredients beforehand. That day, while the participants enjoyed a workshop on fridge-keeping, delicious smells wafted from kitchen where the chef was preparing the dishes.
The dishes were carried in one by one. Each time a new one appeared, cheers arose from the participants.
The dishes included:
Salad made from canned mackerel, tofu and shrimp with mayonnaise and lemon juice; 
Minestrone soup from onions, cabbage, lotus root and eggplant with tomato sauce;
Omelets with freeze-dried tofu, flavored with mushroom soup base; 

Thai-style stir-fried bean-starch vermicelli, canned sardines, shrimp, cabbage and eggs;
White asparagus and wheat gluten macaroni with demiglace sauce;
Hotcakes on a bed of popcorn with special syrup.

 
Everyone was surprised at the unexpectedly wonderful dishes the chef had prepared using only leftovers the participants had brought from home. Taking photos of these dishes and talking about the recipes, the participants enjoyed good food and lively conversation. A person may fall into a rut when routinely cooking alone. At a Salvage Party, however, people can benefit in various ways, learning from the chef how to cook leftovers and exchanging information with each other.
Largest Amount of Food Waste Comes from Households in Japan
The Salvage Party was born in April 2013 as a result of unexpected coincidences. In a casual chat with a "life organizer," a specialist who helps clients tidy up and rearrange their living space, Hirai heard that many families had lots of leftovers in their refrigerators. In addition, he became aware of the current state of food waste in Japan by getting involved in the Foodloss Challenge Project. Then, an idea flashed into his mind -- a party with participants bringing leftover food from home.
Japan Association of Life Organizers
http://jalo.jp/archives/category/english/
The Foodloss Challenge Project, a Co-created Project on Food Loss and Waste
http://www.japanfs.org/en/news/archives/news_id034727.html
Hirai had witnessed the reality of massive food waste through his experience working at restaurants and organizing food events in collaboration with chefs. People might have no second thoughts about throwing away food at restaurants or even at home. "Something must be done," he thought.
The Foodloss Challenge Project, an organization established in January 2013 as a co-creation-type project, aims to seek solutions to the food loss and food waste issues by bringing knowledge and resources together from stakeholders such as consumers, businesses, government agencies, nonprofit organizations and experts. The project is led by Emiko Onoki, a former program officer of the FAO Liaison Office in Japan, and Hakuhodo Inc., a major advertising firm, serves as its secretariat. As part of the project, conferences, workshops and study tours have been held in which people in various fields have discussed the food system overall, including production, processing, distribution and consumption. When Hirai proposed the idea of "salvage parties" to the project's leaders, they readily accepted his idea and decided to co-host the event.
According to a 2014 report from the Food and Agriculture Organization of the United Nations (FAO), 805 million people suffer from hunger globally. Roughly one-third of food produced worldwide for human consumption, though, is lost or wasted. Japan's food self-sufficiency rate is currently 39 percent on a calorie basis, while five to eight million tons of food, which is still good enough to eat, is discarded annually. This amount is equivalent to Japan's annual rice production. It is a little known fact that the largest amount of food waste is from households. In addition, the amount of household food waste is more difficult to assess than that from businesses. A big challenge will be how to raise people's awareness. Fun events such as salvage parties might therefore be a better starting point than campaign activities for getting the message across.
Hirai's idea was dubbed "Salpa," for short, and the first Salpa was held on a trial basis in July 2013. At the party, a professional chef improvised 11 dishes using leftovers brought in by about 30 participants. It was a big success. The party provided a chance for participants to think about food loss in a fun atmosphere without serious discussion. This was followed by a second and third Salpa.
As a New Style of Food
The party's participants thought it was fun and wanted to organize another one, and it spread by word of mouth. In particular, it has become popular among housewives who want to finish up leftover food. They began forming circles to bring ingredients and make dishes together without professional chefs.
Meanwhile, at a symposium organized by the Foodloss Challenge Project, a gathering was held in the Salpa style, offering meals to 70 people. An urban development event in Kanagawa Prefecture also held a large-scale Salpa, providing meals for as many as 100 people.
Created in 2014, the Salvage Party website posts a manual for everyone who would like to participate in or hold a Salpa. Introduced in TV programs, newspapers and magazines, Salpas are becoming increasingly popular across the nation.
Now new, different styles of Salpa are finding popularity: parent-child Salpas, outdoor Salpas, "100 Pages on Salvage" workshops on non-perishable cooking and a salvage recipe contest in collaboration with the FOODIES recipe site.
In January 2015, JFS also held its first Salpa as a New Year's party. Two male twins and their friend who are involved with JFS and good at cooking prepared all kinds of Japanese, Chinese and Western dishes?more than ten dishes in all. The participants enjoyed them a lot, surprised at the feast that could made from leftovers from home. Our first trial was a great success.
Hirai said, "I don't think the Salpa will immediately eliminate food loss in the world or in Japan, but participants look happy when they see the leftovers they brought in used at the party. Otherwise they would have been thrown away. Such an experience encourages a love for food. In the future, we would like to expand the project so that anyone can participate in it. We would like to propose not only this party style but also new types of culinary challenges."
Food sitting around at home ignored can, with a little motivation, see the light of day, bringing individuals and society together. The Salpa may be just what everyone needs in Japan, a developed country with no shortage of things and food.

Written by Taeko Ohno