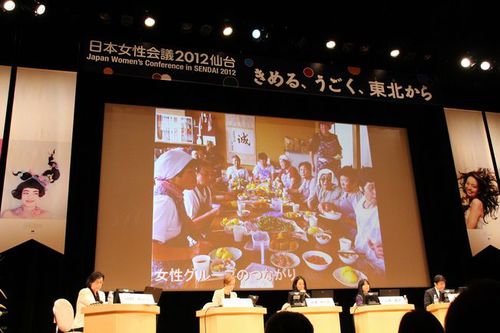 The JKSK Yui-Yui project, an initiative to support the victims of the 2011 Great East Japan Earthquake, has been publishing a series of articles on reconstruction efforts called the "Tohoku Reconstruction Diary" in the Tokyo Shimbun Newspaper. The Yui-Yui Project was launched by JKSK Empowering Women Empowering Society, a certified non-profit organization. Below is the article published on September 27, 2013, on disaster prevention and recovery efforts, written from the perspective of women, byYurie Shirakawa, Deputy Director General, Community Affairs Bureau, Sendai City.
Two years and six months have passed since the Great East Japan Earthquake. The salt-damaged farmlands where crops were thought to be difficult to grow for some time are turning a golden color. On the other hand, the number of temporary residents in Sendai City has exceeded 9,700. There are 290,000 people forced to live as refugees throughout Japan, and a lot more work toward recovery is still needed.
Many women face difficulties from the devastation of the earthquake. However, they were also the ones who made a head start in restoring their lives to normal. Facing the harsh realities, the women felt there were things they could do and that needed to be done now, not only for themselves, but for others. Many women quickly took action.
The fact that women were not present in the decision-making process has made the issues they experienced in evacuation centers less visible. From a woman's perspective, there were not enough toilets, changes of clothing, reserves or relief goods. And there were other concerns that they could not talk about.
Women should, on their own, solve problems that stand in their way. After the great earthquake, Sendai hosted numerous events to provide a voice for women; a national symposium to support domestic violence victims, the Japan Women's Conference, and the national convention of Joseikai, consisting of female members of the Japan Chamber of Commerce and Industry. An increasing number of women aspire to become community leaders for disaster prevention or to start their own businesses. Their actions are making great contributions to the reconstruction of disaster-hit communities.
Sendai City is now carrying out training and networking for women leaders, and supporting women in starting businesses, in cooperation with the Sendai Gender Equal Opportunity Foundation. In 2013, the city established a fund for human resource development, with the support of the Kingdom of Norway.
In 2015, Sendai will host the World Conference on Disaster Risk Reduction. We will transmit the message to the world from the women's point of view with regard to the prevention of and reconstruction from disasters.
Yurie Shirakawa, Deputy Director General, Community Affairs Bureau, Sendai City