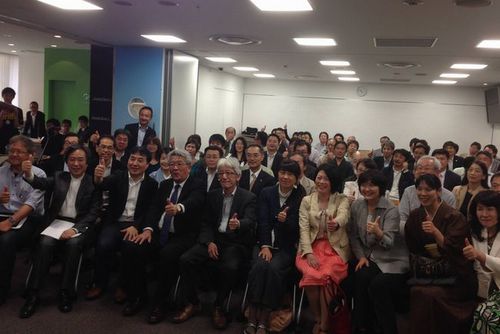 Copyright Institute for Sustainable Energy Policies All Rights Reserved.
The National Local Energy Association announced on May 23, 2014, its official launch after the inaugural meeting held on the same day. The purpose of the association is to create sustainable local communities by promoting renewable energy development and energy-saving initiatives by local citizens.
Since the Great East Japan Earthquake on March 11, 2011, many businesses utilizing renewable energy have launched throughout the nation. Yet, most of these businesses are "colony type" projects developed using capital from outside of the area, and many community-led developments, one of the few businesses in the area, are having problems with financing, staffing and business model selection.
The National Local Energy Association is joined by more than 40 groups, including Hokkaido Green Fund, an NPO that has built citizen-funded wind power plants, and Aizu Electric Power Company, which is engaged in electric power generation using photovoltaic power systems and heat energy supply. The association aims to facilitate exchanges among business operators, relative councils and individuals in the projects and to accelerate the diffusion of local-led renewable energy developments by sharing information and solving common issues.