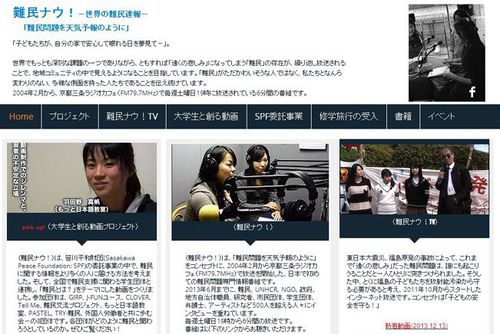 Copyright Nanmin Now! All Rights Reserved.
'Nanmin Now!' ('Refugees Now!'), Japan's first community radio program dedicated to refugee issues, celebrated its 10th anniversary in February 2014.
Over the course of a decade, 'Nanmin Now!' has given a voice to more than 500 people on the topic of refugee issues, including refugees living in Japan as well as people from the United Nations, the Japanese government, non-governmental organizations (NGO), local governments, and researchers. Hoping to make people recognize the refugee issue as commonly as the weather report, Katsuya Soda, the representative of the radio program, has continued broadcasting the six-minute-long program every week for ten years without interruption.
After signing the United Nations Convention Relating to the Status of Refugees in 1981, the Japanese government has provided a certain degree of support for permanent living to refugees who are approved by the Minister of Justice, such as by providing Japanese language education and helping them find a job. However, only 18 out of 2,545 refugees who applied for such support in 2012 were approved (about 36 percent increase from the previous year). Many refugees who have not yet gained approval in spite of their application, are suffering from unstable living conditions due to the difficulty of finding a residence without a guarantor.
After the Great East Japan Earthquake, the radio program also started broadcasting messages focused on issues in Fukushima Prefecture, where the meltdown of the Fukushima Daiichi Nuclear Power Plant has forced the long-term evacuation of tens of thousands of people from their homes. When Soda saw the situation in the disaster-hit areas, he says he felt "we are living in an age when everyone faces the possibility of becoming a refugee," not just disaster victims. He thus hopes to create a better relationship in which those who provide and those who receive support are not divided as though they are different people.
Kazuko Kojima