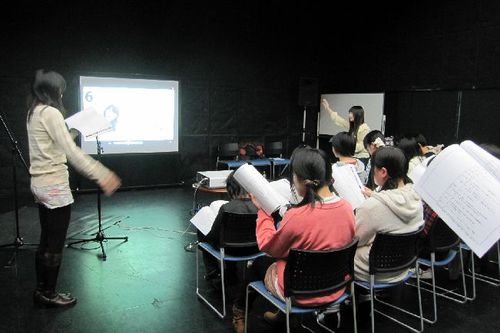 Dialect-experience workshops
Copyright Agency of Cultural Affairs All Rights Reserved.
The Agency of Cultural Affairs has been surveying the actual situation of the dialects used in five prefectures of the Tohoku region, namely Aomori, Iwate, Miyagi, Fukushima and Ibaraki, with regard to their possible extinction in the aftermath of the Great East Japan Earthquake in March 2011. On September 20, 2013, based on the survey results, the agency adopted nine projects for fiscal 2013, aiming at conservation and inheritance of these dialects, and the revitalization of dialect use.
The adopted projects include activities such as publication of conversations in these dialects, information provision of the dialects on the Internet, theater performances in the dialects, and dialect-experience workshops, directed by four businesses and five educational institutions (Hirosaki Gakuin University, Iwate University, Tohoku University, Fukushima University and Ibaraki University).
Following the Great East Japan Earthquake, up to 300,000 people had to evacuate their homes, and 20,000 people were killed or remain missing. In the areas heavily damaged by the subsequent tsunami, many people have been forced to leave their homes permanently, and depopulation of the area is likely to continue.
Population outflow from a specific area would lead to reductions in the number of people who conduct daily conversations in the specific dialect from the area. Assuming that a given dialect is spoken only in a specific area, it is feared that the continuous outflow of people from such areas will result in the extinction of many dialects. Speaking in local dialects instead of the national standard language reportedly alleviates stress. Projects aiming provide opportunities to teach local dialects and utilize their benefits are expected to function as a supportive measure in disaster recovery.