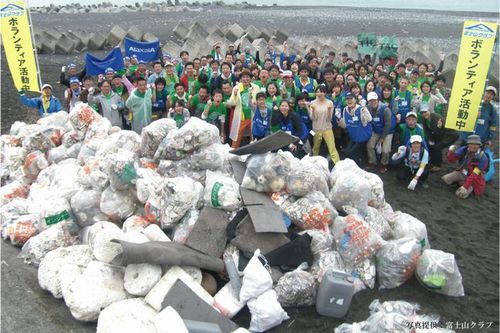 Copyright Fujisan Club All Rights Reserved.
On October 19, 2013, "Corporate Competition! MOTTAINAI Mt. Fuji Clean-up Competition 2013" was held at the Tagonoura shore in Fuji City, Shizuoka Prefecture, which is near Mt. Fuji. This is the eighth year for the event, which aims to promote activities related to trash clean up, and to measure the quantity and quality of trash, as well as discuss environmental issues.
In order to create a sustainable recycling-oriented society, the Mottainai Campaign office, the host organization for the event, started the campaign proposed by the late Wangari Muta Maathai, the 2004 Novel Peace Prize Laureate, who was then the Assistant Minister for the Kenyan Environment and Natural Resources. Since the opening of the secretariat in March 2005, the campaign has developed all over the world, and it now boasts 50 supporting companies.
A total of 112 people from 13 supporting companies participated in the clean-up event in 2013. The seashore was covered with large amounts of trash on the day of the event, as a typhoon had just hit the area. In an hour and a half, participants collected about 550 kilograms of trash, which included plastic bottles, tires, buoys, iron scraps, sinks, spray cans, lighters, batteries, cans and bins, enough to fill three 1.5-ton trucks.
After evaluation of each activity, which includes criteria other than quantity of trash, the judges announced various award winners. The MOTTAINAI grand prize went to the Itochu Techno-Solutions Co., which was strongly praised for their diligent and careful collection of small polystyrene waste on the beach slope using well-coordinated teamwork.