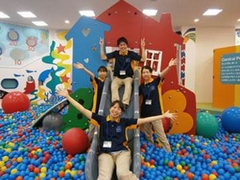 Copyright Reconstruction Agency
All Rights Reserved.
The Reconstruction Agency announced on October 4, 2013, the results of its contest to select model initiatives in the areas hit by the Great East Japan Earthquake to accelerate efforts to develop a "New Tohoku." The agency's aim was to find and foster spontaneous efforts, not in the public sector but in the broader private sector, such as those by companies, universities, and nonprofit organizations.
In the contest, conducted in August 2013, from the 464 applicants, 66 projects were selected under the five themes designated in the interim report of the Reconstruction Promotion Committee: a safe society encouraging vibrant and sound growth of children (Children's Growth); a vibrant, highly-aged society that sets standards based on the needs of the elderly (Aged Society); sustainable energy and independent and decentralized energy sources (Energy); a society evolving with robust and resilient social infrastructure (Social Infrastructure); and society with high communication capacity that utilizes community resources (Community Resources).
Of the initiatives selected, the following shows the category they were registered under: local resources (38 initiatives), aged society (16),social infrastructure (13), children's growth (12), energy (9), and mixed theme (7). Location-wise, 34 are in Miyagi Prefecture, 31 in Iwate, and 25 in Fukushima, although some are classified under multiple themes or regions.
Among the applicants, initiatives under the theme of local resources, including primary industry and tourism, accounted for 40 percent and the largest portion. Initiatives were selected in proportion of the number of applications in each theme. The agency started to contract with the selected applicants and will implement these initiatives. It also plans to conduct hearings with the applicants at the end of FY2013.