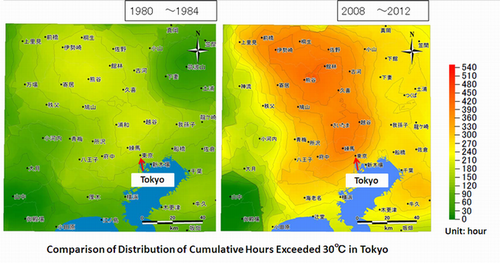 The Ministry of the Environment (MOE) announced on July 1, 2013, that a Japanese government liaison committee has revised the Outline of the Policy Framework to Reduce Urban Heat Island Effects. The modification reflects recent increase in heat stroke incidents triggered by extended period of daytime high temperatures over 30 degrees Celsius and night time lows of over 25 degrees Celsius.
The Outline of Policy Framework that the MOE and Ministry of Land and Transportation drew up and have promoted since 2004 focuses on improving urban structure as a mid- to long-term solution, but lacked short term provisions against the urban heat island effect. The recent revision, therefore, calls for adaptation measures to mitigate influence on human health, in addition to existing measures for reducing anthropogenic heat emission, improving road surface of urban areas and improving urban structure and lifestyles.
The new policy framework introduces a one-to-five scale "heat index" to help prevent heat strokes, and also makes specific suggestions, including not going outdoors in extreme heat, keeping moderate indoor temperatures, and covering exterior walls and windows of buildings with greens such as morning glory and bitter gourd.
The ministry intends to enhance current policies and to review various targets to further reinforce countermeasures for the urban heat island effect.