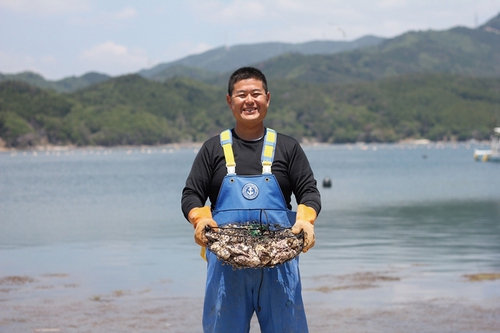 Takatoshi Abe, oyster fisherman.
Copyright Tohoku Kaikon All Rights Reserved.
The Japanese non-profit organization "Tohoku Kaikon" -- literally translated as "cultivation of the Tohoku Region" -- is focused on supporting reconstruction efforts in the earthquake and tsunami-damaged region by encouraging and promoting local food production. It launched a monthly magazine called "Tohoku Taberu Tsushin" in July 2013, with the goal of enhancing the connection between consumers and food-producing areas, and providing consumers with opportunities to connect with the people that actually produce the food they eat.
Shining a light on food producers from around the Tohoku region, with a special focus on those committed to high quality and taste, the magazine is delivered to regular subscribers together with a certain food ingredient highlighted as the feature of the month. The inaugural July issue introduced the mature oysters produced in Makinohama, Ishinomaki City, in the northeast of Miyagi Prefecture, as well as revealing the passion of Takatoshi Abe, an oyster fisherman. In its August issue, the magazine featured the short-horned cattle from Kuji City, Iwate Prefecture, and in September it featured fish dumpling soup made from "Donko" (Physiculus maximowiczi), which is considered "soul food" in Soma City, Fukushima Prefecture.
The magazine's publisher and also director of Tohoku Kaikon, Mr. Hiroyuki Takahashi, says he hopes to see community-supported agriculture (CSA) take deep root in Japan. CSA is a mechanism in which consumers pay a certain amount of money in advance to producers as a means of financial support, while producers share their produce with the consumers. Taberu Tsushin has started a membership-based CSA service, and Takahashi wants to connect people living in cities and people living in rural areas, based on common values, to create a new, uncharted community.
Written by Kazuko Kojima