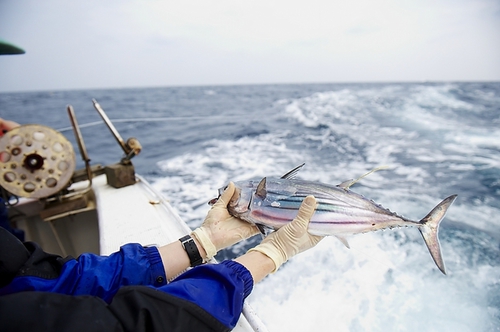 Copyright Ajinomoto Co All Rights Reserved.
The AEON Environmental Foundation selected, on September 13, 2013, five winners of the third Japan Awards for Biodiversity. Ajinomoto Co., one of the winners and a corporate member of the Japan for Sustainability, won the award for its continuing efforts to maintain the skipjack tuna population by tracking their migratory movements using archival tags off the Pacific coast of western Japan since 2009. The company also scored highly for its strong partnership with other organizations in conducting this project and active outreach for sustainable fisheries.
The awards presentation ceremony to be held at the United Nations University in Tokyo on October 29, and the grand prize went to Tambo, a nonprofit organization promoting ecological farming and community building through biodiversity conservation. The organization has been engaged in the restoration of tsunami-affected rice fields by natural farming utilizing ecosystem resilience.
The Japan Awards for Biodiversity was established in 2009 by the AEON Environmental Foundation and the Ministry of the Environment, prior to the tenth meeting of the Conference of the Parties to the Convention on Biological Diversity held in Nagoya in 2010. It aims to enhance conservation and sustainable use of biodiversity in Japan in the hope of protecting the Earth for the next generation. This year the Awards received 104 applications from organizations and individuals in Japan.