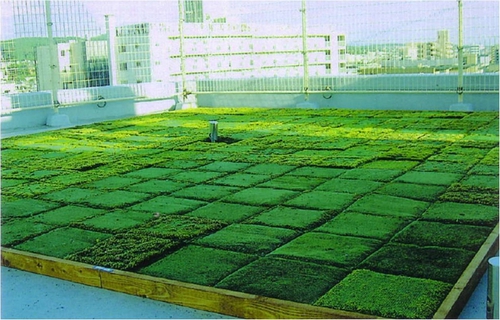 Copyrights Mossgreen Eco All Rights Reserved.
Mossgreen Eco, a non-profit organization (NPO) that focuses on the use of moss and reeds that grow around Lake Biwa, the largest freshwater lake in Japan, to revive the local community, installed their new green roof panel made with moss and reeds all over the about 40-square-meter rooftop at the Taga Sasayuri daycare center in the town of Taga, Shiga Prefecture (west-central Japan). They found jointly with the University of Shiga Prefecture that after the green roof panels were installed at the daycare center, the indoor temperature was about 6 degrees Celsius cooler than before installation. The NPO says that the product could lead to widespread energy saving on air conditioning during the summer.
The green panel developed by Mossgreen Eco is made with moss that grows on fallow land around Lake Biwa, and the base material for the panels is made with reeds that grow in the lake. Not only do they generate employment in the area by using locally harvested plants, the NPO also contracts the tasks of braiding the reeds and cultivating moss to local welfare institutions, leading to job opportunities for persons with disabilities.