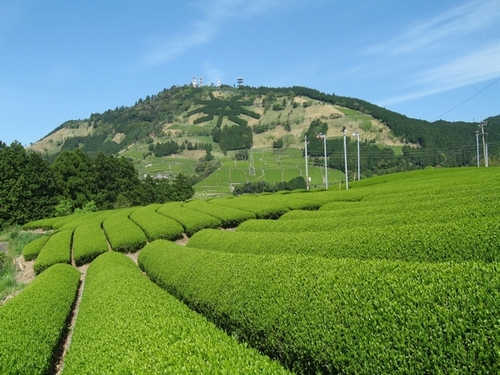 A farm in "Chagusaba" method in Shizuoka Prefecture
Copyright Kakegawa City

At the International Forum on Globally Important Agricultural Heritage Systems (GIAHS) held in Ishikawa Prefecture on May 29, 2013, three more sites in Japan were designated as GIAHS: Kakegawa in Shizuoka Prefecture, Aso in Kumamoto Prefecture, and Kunisaki in Oita Prefecture. This follows the designation in 2011 of Sado in Niigata Prefecture and Noto in Ishikawa Prefecture, resulting in five agricultural heritage systems in total in Japan.
In Kakegawa, Shizuoka Prefecture, the "Chagusaba" agricultural method of growing grass around tea fields to use as organic fertilizer for tea cultivation, was praised highly for its contribution to biodiversity conservation through the maintenance of half-natural grass fields. In Aso, Kumamoto Prefecture, to conserve the biodiversity and rural landscape in one of the world's largest calderas, a semi-wild environment has been maintained by grazing and collecting and burning grass on open fields. Kunisaki, Oita Prefecture, which has less rain, has used its lands and water effectively since Edo period (1603-1868) by means of small reservoirs throughout the city. Kunisaki is now Japan's largest dried shiitake mushroom producer and the only producer in Japan of a perennial grass called Shichitoi.
Started in 2002 by the United Nations Food and Agriculture Organization (FAO), GIAHS certifies globally significant sustainable agricultural systems that should be passed down to future generations. Twenty-five sites in 11 countries have been designated as GIAHS as of June 2013.
Kazuko Kojima