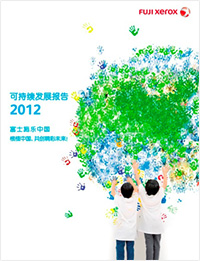 Copyright Fuji Xerox Co All Rights Reserved.

Fuji Xerox (China) Limited, a subsidiary of Fuji Xerox Co., issued its first sustainability report on April 15, 2013, that describes about the corporate social responsibility (CSR) activities throughout the entire value chain --from procurement, manufacturing and sales to recycling of end-of-life products-- which took place in China initiated by Fuji Xerox's five Chinese subsidiaries in fiscal 2011 and 2012.
Initiatives covered in the report include CSR training for its suppliers, Employee Assistance Program for young employees, energy saving activities in the homes of the employees, and proposals for environmentally friendly offices for customers. It also explains efforts to collect, reuse, and recycle used products and consumables across China.
Regarding China as its most important market, in July 2012, the company strengthened its management base, putting in place an integrated control system that encompasses production, development, sales, and recycling in China. The report is the first issue under this structure.