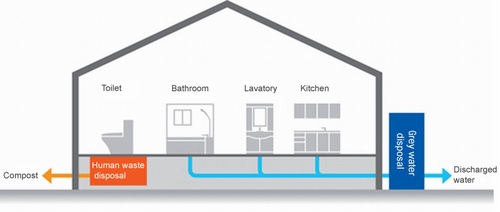 Copyright LIXIL Corporation

LIXIL Corporation, a Japanese manufacturer comprehensive living and housing solution company, has been jointly developing the new local wastewater treatment system with Kamikatsu Town government, Tokushima Prefecture.
LIXIL held a meeting on February 18, 2013, to discuss the results of a demonstrate research on their human waste and wastewater treatment system, called Eco-Sanitation, with Kamikatsu Town and well-informed persons.
LIXIL installed the Eco-Sanitation model it was developing at a private household in Kamikatsu Town, and began collecting data and assessing the social value of the system in April 2012. Results showed that human waste was decomposed and reduced in volume, not requiring sludge removal during the one-year research. The quality of the treated water was about as good as that of the treated water by Jokaso, "onsite wastewater treatment system" in Japan, and specifically, the treated water contained no more nitrogen or phosphorus than water treated in advanced Jokaso.
Kamikatsu Town was the first Japanese municipality to make a zero-waste declaration in 2003, and has implemented a number of waste reduction initiatives including separating garbage into 34 categories, and installing composting machines in every household. The town has been working on reducing and recycling sludge from human waste and waste water, which was the last remaining obstacle to overcome to achieve the zero-waste goal. LIXIL and Kamikatsu Town will continue to collaborate on a demonstrate research to work toward the zero-waste policy, and aim to establish the new sanitation system that does not pollute local rivers.
Related JFS article:
Towards Building a Society with Sound Material Cycles: the Zero WasteDeclaration from Kamikatsu Town in Tokushima Prefecture
Kamikatsu Township Eyes Zero Waste -No Incineration or Landfill -by 2020