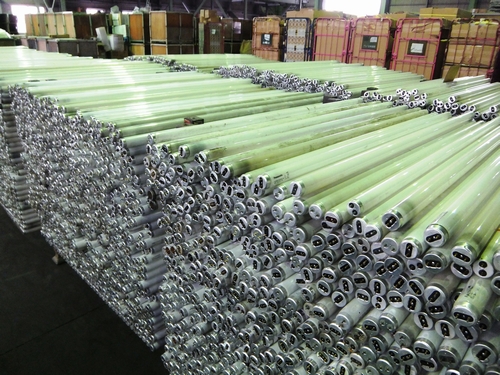 Copyright Fukuoka Prefecture

Fukuoka Prefecture in western Japan announced on March 29, 2013, that they have started full-scale rare earth recycling operations that extract rare earth metals from used fluorescent light tubes, for reuse in new fluorescent light tubes. This rare earth recycling program is the first project of its kind in Japan, and was developed jointly by an industry-government-academia collaboration lead by Fukuoka Prefecture.
J. Relights Co., a recycler of fluorescent light tubes in Kitakyushu Eco-town in the prefecture, extracts fluorescent powder from used fluorescent light tubes that are collected by municipalities. The rare earth metals are then separated, extracted, refined and supplied to the market by Nippon Yttrium Co., an all-round manufacturer of rare earth metals located in Omuta City of the prefecture.
The Fukuoka Research Commercialization Center for Recycling System, a foundation wholly owned by Fukuoka Prefecture, conducted total co-ordination such as progress management. Purification of the fluorescent powder was researched by Professor Tsuyoshi Hirajima of Kyushu University and the joint research with Nippon Yttrium on the fluorescent powder was joined by its affiliated company, Mitsui Mining & Smelting Co.
Five rare earth metals are used in fluorescent light tubes as fluorescent powder. Yttrium oxide, which accounts for the highest proportion of these, was extracted first in order to promote the project. Nippon Yttrium, with its production capacity of 60 tons of yttrium a year, can supply about 12 percent of the domestic demand for fluorescent rare earths when operating at maximum capacity. The company hopes to contribute to the stable supply of the rare earths in Japan by expanding and stabilizing the project with further collection and quality improvement activities in the future.
Related JFS article:
Honda Motor Starts Rare Earth Recycling from Used Parts
University of Tokyo Develops New Technology to Recover Rare Earth Metal from Scrap Magnets
Hitachi Launches R&D on Rare Earth Magnet Recycling