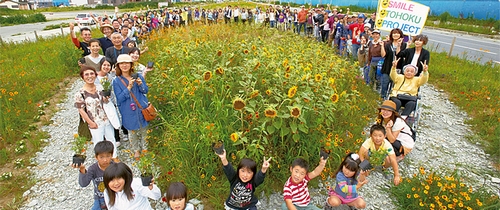 Copyright SMILE TOHOKU PROJECT

Kao Corp., a leading manufacturer of chemical products in Japan, announced on April 15, 2013, that it would continue its support, begun in 2012, of the Smile Tohoku Project, an initiative to assist areas affected by the Great East Japan Earthquake, and also launch in the same month a new project to plant flowers across Japan and a million flowers to Tohoku.
While distributing sunflower seeds to participants so they can plant one million flowers across Japan, Kao will invite them to introduce, through the project website, their own efforts to make people around them happier as "Smile Declarations" at the time of seed-planting events in the Tohoku region. Using the Smile Declarations gathered from all over Japan, mosaic pictures shaped in the image of recovery symbols will be assembled and sent to Fukushima, Miyagi and Iwate Prefectures.
The Smile Tohoku Project, launched in May 2011, is a project led by three newspaper companies in Tohoku--Iwate Nippo Co, Kahoku Shimpo Publishing Co., and Fukushima-Minpo Co.--to lift the spirits of people in disaster-stricken areas and publicize the vitality of Tohoku all over Japan.
Related JFS article:
TSE Creates 'Nadeshiko' Label for Companies that Support Women's Careers
Kao Named Top Company for Reporting on its Greenhouse Gas Emissions and Climate Change Initiatives