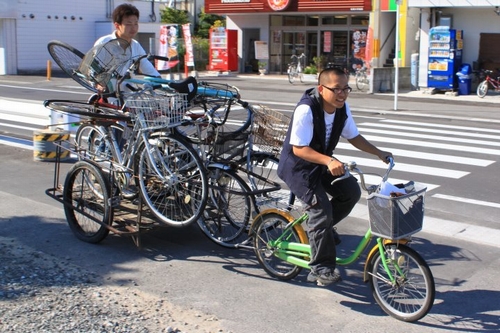 Copyright Chari Saga Saisei

The Chari Saga Saisei, a voluntary student organization formed in September 2009 and mainly comprising Saga University students, won the grand prize at the National Student Environmental Activity Contest in December 2012. A total of 50 group members collect and restore broken bicycles left on the university campus, and rent or sell them at low prices.
The group has restored 481 bicycles, repaired 748, handed over 102, and kept 284 for rentals. Before these activities were initiated, about 600 bicycles had been discarded on the campus annually. By estimating the total volume of new bicycles and the abandoned bicycles that were recycled over the past three years, carbon dioxide emissions were reduced by about 45 tons, equivalent to the annual emissions absorbed by 3,000 cedar trees.
The group aims to clear all the bicycles left unattended by encouraging them to be handed over to others rather than be abandoned, and to establish a cycle of restoration and distribution.
Related JFS article:
[Youth Action] Re-tensha (Reuse and Recycle Bike) Utilizing Committee
Using Bicycles Efficiently to Create a Sustainable Society
Giving new life to abandoned bicycles