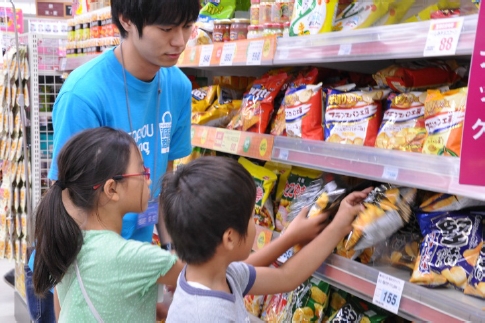 Copyright Gomi-Jp

The 3Rs (Reduce, Reuse, and Recycle) Promotion Council announced on October 26, 2012, the winners of the 3Rs promotion merit awards for promoting a recycling-based society in FY2012, including one of Prime Minister's Prize winners, the Gomi-Jp, a Japanese non-profit organization consisting mainly of Kobe University students. The NPO was awarded for its "Heraso (reducing waste with simple packaging) Goods" activities, which aim to naturally reduce waste of packaging materials.
Since 2007, the NPO has been conducting activities to verify that although consumers generally pay little attention to packaging, they would select goods with less packaging when they learn social advantages of simple packaging. The NPO intends to establish the effects of its activities on wider society.
Products were categorized based on consumers' views, labeled and promoted as less packaging weight per content, by utilizing point of purchase advertising on store shelves. By analyzing questionnaires on consumer awareness and data on actual sales results, the NPO verified an approximately 10 percent increase in sales.
Under the pilot project of printing Heraso Goods Mark on product packaging that meet the standards developed with Yamazaki Baking Co., they have sold 12 million units of seven items over a year period in Japan. Their activities have received favorable coverage in some grass-roots blogs, and citizens nationwide are gradually becoming aware of this project.
Related JFS article:
CITY OF NAGOYA, "WASTEREDUCTIONOF 23% IN TWO YEARS!"
Giving Disposable Chopsticks a Life Cycle