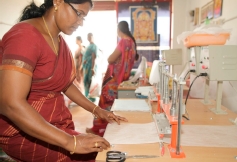 Copyright Granma Inc.
Granma Inc., a Japanese marketing research and consulting company that operates businesses for rural areas in Asian developing countries, launched a project to deliver sanitary napkins to women in the Philippines, entitled "Delivering Design to Change the World in the Philippines" on November 12, 2012. The project is based in Mindoro Island, where the penetration of sanitary napkins is particularly low in a country where the penetration of sanitary napkins is about 32 percent, with the goal of higher earnings and more employment for women in rural communities.
Women in developing countries reportedly lose 50 hours per year or five years in their lifetimes, which can otherwise be spent on study or work, due to the lack of availability of sanitary napkins. Granma will employ a small machine for sanitary napkin production, and introduce a mechanism for distribution, manufacturing and sales, all of which were previously developed in India where similar problems were faced, in order to create employment and empower women in local communities.