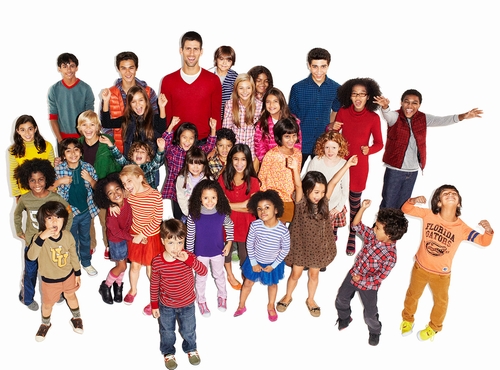 Copyright Fast Retailing Co.

A leading Japanese clothing retail company, UNIQLO, announced on October 16, 2012, that it has launched a new project called "Clothes for Smiles" developed by Tadashi Yanai, Chairman, President and CEO, Fast Retailing Co., and Novak Djokovic, a professional tennis player and UNIQLO Global Brand Ambassador. As part of this project, they have established a billion-yen fund (about US$13,000,000) with the aim of realizing the hopes and dreams of children around the world.
Generated from their desire to change people's lives and society all over the world for the better, the project will be funded by the sale of HEATTECH and Ultra-Light Down products during the fall and winter season in 2012.
It comprises two activities, assigned 500 million yen each (about US$6,500,000). One activity is the collection of ideas on how to utilize the fund from all over the world via a special website, and to carry out these ideas.* The other is to support programs for improving the education circumstances of children through a global alliance formed between UNICEF and Fast Retailing Co., a holding company of UNIQLO. After starting activities in Bangladesh, China, Philippines and Serbia, support will be expanded to other countries.
*The project finished accepting online submissions of ideas at the end of December 2012.
Related JFS article:
New iPhone App Supports Personal Health Management and Fights World Hunger at the Same Time
What Are Children's Vision for the World a Century from Now? MIRACLE MIRACLE, Announces Results to First Survey Question