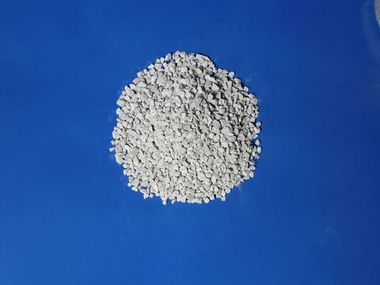 Copyright Nippon Concrete Industries Co.

Nippon Concrete Industries Co., a Japanese manufacturer of concrete products, announced on May 17, 2012, that it has developed a high-performance dephosphorizing material by recycling concrete sludge disposed of as industrial waste. The material can rapidly absorb phosphorus that accumulates in sewage water or at the bottom of lakes and ponds, after which it may be used as a substitute to replace phosphate rocks.
Phosphorus is widely used in chemical fertilizers, industrial products and food additives. Japan obtains all of its phosphate rock, the raw material for phosphorus, from abroad. However, the price of phosphate rock has been increasing and supply is unreliable, so the development of technologies to collect and reuse phosphorus is an urgent necessity. By adding new material at a ratio of 0.2% into waste water containing phosphorus, the newly developed high-performance dephosphorizing material rapidly absorbs almost all of the phosphorus present, after which it can be used as a substitute for phosphate rock.

Japanese Gov't Launches Study Group to Research Recovery of Phosphorus from Sewage (Related JFS article)
Posted: 2012/08/04 06:00:15 AM